The World Health Organisation (WHO) has tweeted to celebrate the first baby in Ghana receive the new malaria vaccine being piloted in selected regions.
Ghana is one of three African countries selected to pilot the new malaria vaccine, known as RTS,S.
The vaccine will be made available to children up to two years of age.
"Well done! Baby Susanna is #Ghana's first baby receiving RTS,S – the #Malaria pilot vaccine launched in the country this week," WHO tweeted on May 1.
Susana and another baby, Abigail, both months old, are the first children to receive the malaria vaccine in the Ghana pilot that was launched on May 1.
RTS,S is the first, and to date the only, vaccine that has demonstrated it can significantly reduce malaria in children.
In clinical trials, the vaccine was found to prevent approximately 4 in 10 malaria cases, including 3 in 10 cases of life-threatening severe malaria.
Malaria remains one of the world's leading killers, claiming the life of one child every two minutes; most of these deaths are in Africa. In Ghana, about 20 percent of all children have malaria parasites in their blood.
Source: myjoyonline.com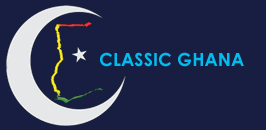 Latest posts by Classic Ghana
(see all)