A 41-year-old woman, Eunice Ahenkorah, has snubbed incessant calls on her to end the life of her five-year-old daughter suffering from cerebral palsy.
Community members have been mounting pressure on her to waste the life of Salifu Regadan because they believe she is a curse to the family.
Several efforts by Ahenkorah to receive medical and spiritual interventions to transform the life of her daughter have failed.
She said she is going through a lot to take care of her daughter.
"It is not easy," Ahenkorah told Starr News' Kojo Ansah in the Eastern region. "I am even tired of hearing advises to kill my sick daughter but this is my only daughter. After carrying her for nine months I can't kill her regardless of her condition. They say she is a river demon but I don't know how a river can give birth."
She had to quit her previous job at a stone quarry to become a labourer at a cassava farm due to the condition of her daughter.
"I carry her at my back to harvest cassava for farmers and sell so that they give me something to take care of my family including my three children whose father is dead. I have spent all my little money on her health but the condition remains [the same]," Ahenkorah said.
Her dream is to save enough to enroll her daughter in a special school, however, due to her financial situation she is appealing for public support.
"Somebody told me about a special rehab center at Begoro but when I went there the owners said because she can't sit or stand I must spend at least three months there with her for them to assess her. I don't have money to stay for that long and it means I have to leave the other children behind and there is nobody to take care of them," she said.
Madam Esther Ahenkorah, mother of Eunice, is equally disturbed about the financial condition of her daughter.
"What we are begging for is public support for the family to take care of the child because the mother is getting depressed. I feel pity for my daughter. She has to carry her everywhere she goes so she has been complaining of chest and waist pains," she said.
Cerebral palsy is a group of disorders that affect movement and muscle tone or posture. It's caused by damage that occurs to the immature brain as it develops, most often before birth.
Signs and symptoms appear during infancy or preschool years. Cerebral palsy causes impaired movement associated with abnormal reflexes, floppiness or rigidity of the limbs and trunk, abnormal posture, involuntary movements, unsteady walking, or some combination of these.
Certain infections or toxic exposures during pregnancy can significantly increase cerebral palsy risk to the baby.
It is therefore suspected that, exposure of Eunice Ahenkorah, to toxic substances at the quarrying site might have caused the neurological disorder in her child.
Source: Starrfm.com.gh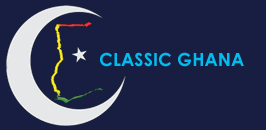 Latest posts by Classic Ghana
(see all)