Actor Chris Attoh has broken his silence five months after his wife was shot dead in the US.
Although the US-based actor has been a bit active on Twitter, he had not really said much on Instagram since he lost Bettie Jenifer after just seven months of marriage.
In a post on Instagram, that indicates that he is beginning to put the painful experience behind him, the actor said one can not protect him or herself from sadness.
Taking solace from the bible, the actor quoted a verse from "Acts 16: 23 -30."
"We learn a lot from our places of discomfort, the only way for a baby to come out of the womb is through it. I guess in [l]ife, you cannot protect yourself from sadness, without protecting yourself from happiness. It's easier to stay open and trust God.? @Niidjarbeng_lightville," he said.
Bettie was shot multiple times on Friday, May 10 by a man; police say was black, while she walked to her car at the parking lot of her office at 6300 Block of Ivy Lane around 5 pm.
Police declared her dead on the scene.
Not much has been heard from the police after they declared that they were hunting for the suspect, believed to have used a handgun and fled the scene in a blue vehicle after the incident.
They described the suspect as "a black male with a thick build and black hair, wearing a dark shirt and pants."
Chris Attoh and Bettie Jenifer got married in October 2018 in Accra.
Chris Attoh married again after his first marriage to Nigerian actress, Damilola Adegbite, with whom he has a son, crashed in 2017.
Chris Attoh's late wife was also married to another man
Police revealed that Bettie Jenifer was married to two different men simultaneously, Chris Attoh and Kendrick Jenifer, a convicted Baltimore drug lord.
Kendrick Jenifer is serving the 20-year prison sentence for importing large amounts of cocaine into Baltimore from Texas.
Later, photos of Bettie Jenifer together with Kendrick Jenifer and their twins surfaced online.
The photos of the family were shared by a woman believed to be Bettie's sister in 2009.
Source: Myjoyonline.com | EDA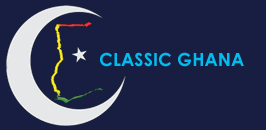 Latest posts by Classic Ghana
(see all)