From social enterprises, entertainment, food businesses to women empowerment, young Ghanaians are leading the way.
And as stories on young Ghanaians excelling in varying fields flood social media daily, the story of Maame Abena Serwah Donkor, a budding entrepreneur should not be news to us.
However, her path to entrepreneurship and the story surrounding it is telling.
Maame Abena ditched tertiary school in her third year and started snail farming after stints with white collar jobs.
" I left Accra Technical University in my third year to start snail farming because I believe I was born an entrepreneur. I never saw myself working a white collar job for too long," she said in an interview with modernghana.com.
She ventured into snail farming partly because of her love for snail meat and the desire to have some available year round for consumption.
While Maame Abena was growing up and as young as age 10, she had hopes of becoming a journalist ,which did not happen then she studied supply chain management at the tertiary level but dropped out in third year.
Jump forward 2017, she is a snail farmer.
This is a subtle reminder that the path to success is not plain sailing, one need to grab opportunities work at it and move to the other if it proves unsuccessful.
Of course she had to battle failures and fierce resistance from family and friends at the initial stage.
"When I started, it was quite challenging. I made losses, especially without mentorship."
"I was mocked at, people still mock me and others are surprised that I'll venture into the agriculture sector when I didn't study anything of that sort in school,"she averred.
With persistence and with 60 snails from her backyard, she now owns a snail farm of about 2000 snails and of three different species in her neigbourhood.
For some time now she has studied snails, how to rear them and gone on to train others to start farming.
"Right now there's already a big market for stock so much that I run out sometimes and as a result, I'm excited to train others to start up a farm, knowing that I could fall on them in the near future when I run out," she noted.
Even before her certifications are ready, she has started receiving orders from outside of Ghana but currently working on her brand then she will expand, export and train others extensively.
When asked if snail farming is lucrative she said: "It's very lucrative but only requires patience and consistency like any legit investment"
In an earlier report by Emmanuel Yartey on modernghana.com, he noted that Ghana is making huge profit from snail farming, contributing to about US $ 4 million per annum from America as imports.
He adds: Ghana exported about 620 kilograms of snails in 1994 and 1,050 kilograms to the Netherlands and the United States respectively.
By Pamela Ofori-Boateng
Source: modernghana.com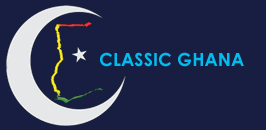 Latest posts by Classic Ghana
(see all)