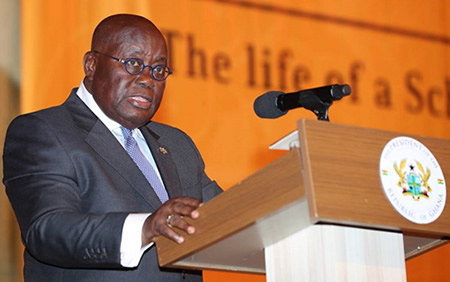 President Nana Addo Dankwa Akufo-Addo has charged Ghana's historians and writers to entrench the values of the nation's history that reflected it's peoples  resilience to build a civilization founded on liberty, common humanity and solidarity.
He said their narratives should establish the country's rich history of mobilising "our immeasurable resources to address our problems, discarding a mindset of aid, dependence, charity and handouts, and creating a self-reliant, prosperous Ghana that will deal with others on the basis of equality and mutual respect".
President Akufo-Addo made the call at the re-launch of Professor Robert Addo-Fening's book, titled "Akyem Abuakwa, 1700-1943, from Ofori Panin to Sir Ofori Atta" in Accra.
In eight chapters, the author tells the story of Akyem Abuakwa from its origins in 17th century Adanse, through its relocation to Banso, on the backside of the Atewa hill under Nana Ofori Panin, commonly regarded as the founder of the Akyem State, and subsequently to Kyebi, in the valley of the Birim River, after 1727.
The book also provides insight into the life of Nana Ofori-Atta, as a traditional ruler, legislator and patriot, amongst others.
The event formed part of activities commemorating the 75th anniversary of the death Nana Ofori Atta I.
President Akufo-Addo recounted the history of writings on the continent and said, notwithstanding the massive evidence of 10th century Al-Azhar University in Cairo and 10th century Sankore University in Timbuktu, and their manuscripts, there were many who accepted and believed that there was no written history of Africa.
However, these early writings, some insisted, were not set out in a chronological framework, and, at best, provided information on earlier ethnic societies and traditional states.
He added that literary works by the likes of C.C Reindorf in "The History of the Gold Coast and Ashanti", John Mensah Sarbah in "Fante Customary Laws", Joseph Casely-Hayford in "Gold Coast Native Institutions", and, J.B. Danquah in "Akan Laws and Customs" fell into this category.
"It was, thus, left to the new generation of professionally-trained Ghanaian historians, of the post-independence era, to take up the challenge thrown at their forebears for nearly three centuries."
"Under the direction of the great historian, Professor Adu Boahen, then Head of the Department of History at the University of Ghana, Legon, during the 1960s and 1970s, a coterie of young, enthusiastic undergraduates of history were offered scholarships to undertake post-graduate studies abroad."
They included K.Y Daaku, author of "Trade and Politics on the Gold Coast 1620-1720", J.K Fynn, author of "Asante and its Neighbours 1700-1807", Divine Amenumey, author of "The Ewe unification movement: a political history", Kofi Afrifah, author of the "Akyem Factor in Ghana's History", A.A Iliasu, author of "The origins of the Mossi-Dagomba States", and Kwamena-Poh, author of "Government and Politics in the Akuapem State".
Among those who were trained locally, under Adu Boahen's supervision, were Francis Agbodeka, author of "An Economic History of Ghana from the Earliest Times", Irene Korkoi Odotei (neé Quaye), author of "External Influences on Ga Society and Culture", and Robert Addo-Fening.
The re-launch of the book published by Prof. Addo-Fening, one of Adu Boahen's most prominent proteges, the President said, was the first comprehensive, historical study of the rise and growth of Akyem Abuakwa, originally published 21 years ago – in 1997, by the University of Trondheim, in Norway.
President Akufo-Addo said he was happy to note that Prof. Addo-Fening was also mentoring young historians just as Prof. Adu Boahen did.
He was eagerly awaiting the publication of an M.Phil thesis, titled "Nana Sir Ofori Atta and the Process of Educational Change in the Gold Coast (1912-1943)", written by Frank Afari, who received supervision from Prof. Addo-Fening.
The President reminded the country's new generation of chroniclers that they had a special responsibility to continue with the work of the late, great historian, Prof. Adu Boahen and his epigones.
Prof Addo-Fening's study, he added, was a good pointer for the new generation of Ghanaian historians.
Source: GNA
Classicghana.com is a platform to informed visitors of News, fashion, photography, lifestyle, beauty, videos, arts & entertainment, and more.
Photojournalism is our main medium of telling news stories to our visitors.