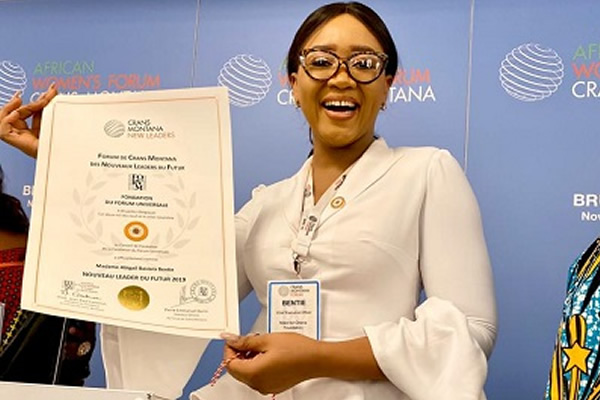 The 2014 Ghana Most Beautiful winner, Ms Baciara Abigail Bentie popularly known as Baci, has been awarded a diploma in leadership to officially welcome her to the team of New Leaders of Crans Montana Forum.
The award which is given to selected young leaders for their immense and exceptional professional achievements with a goal to serve humanity aims at making the world a better place.
Receiving the award from the Chairman and Founder of Crans Montana Forum, Mr Jean-Paul Carteron, Baci, founder of the Malol-Lol Foundation, reiterated her commitment to supporting an all-inclusive education across the country irrespective of gender.
She mentioned that she would continue to mobilize human, financial and social resources to contribute better education for children, particularly those in deprived communities across the country.
She also indicated that her goal to become a beauty queen and a community developer "has been and still is to contribute her quota to national development in every possible way".
Baci who has been engaged in the promotion of basic education through the distribution over 10,000 customized exercise books as well as teaching and learning materials in over seven districts in Ghana as well as the distribution of solar panels in Tuluwe expressed gratitude for the celebration and recognition of her works and contribution to the development of her country and the world at large.
Crans Montana Forum
The Crans Montana Forum is a Non-Governmental International Organization that seeks to build a better world towards a more humane world.
It also aims at strengthening international cooperation by promoting good practices and allowing a permanent dialogue between people in the public and private sectors who are the real decision-makers on whom the future of the world depends.
The Forum which was opened by the Chairman and Founder of Crans Montana Forum, Mr Jean-Paul Carteron highlighted the significant role women play in today's societies as bearers of values essential for Africa and the world also focused on the need for a robust education and health strategy in Africa that will mobilise the means to reach the Sustainable Development Goals and foster a peaceful, just and inclusive society.
Source: Graphic Showbiz
Latest posts by Classic Ghana
(see all)