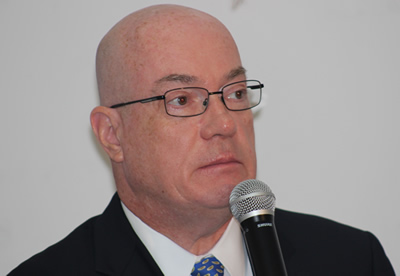 The United States ambassador to Ghana, Robert P. Jackson has reiterated that 7,000 Ghanaians are in the process of being deported from the United States of America (USA) for various immigration offences.
During an address at an Institute of Economic Affairs (IEA) discussion on United States-Africa Relations Monday (June 11, 2018) in Accra, Ambassador Jackson stressed the need for all countries to control their borders.
He said: "First, we are talking about 7,000, not 60,000 Ghanaians who are in various stages of being deported from the United States and on that issue just as we have a responsibility to patrol our borders, countries around the world have a responsibility to issue travel documents to their citizens so that they can return to those countries".
This is the second time in over a year that Ambassador Jackson is mentioning that 7,000 Ghanaians are set to be deported. In April last year, he told reporters in the Brong Ahafo region that about 7,000 Ghanaians living illegally in the United States of America are being processed for deportation.
He stated: "In fact about 7,000 of them are currently at different stages of the deportation process. And we are not apologetic about that. One thing that I do think that Ghanaians need to be aware of is, I think the president-elect (Donald Trump), as I mentioned, is likely to be more rigid about illegal immigration".
"We have a lot of Ghanaians who have overstayed their visas in the U.S. and I think that they need to be concerned about whether they would be allowed to remain illegally. My guess is they will be given some options but the president will be serious about asking those who've violated their visa status to depart," Mr Jackson said.
It will be recalled that on March 14, 2018, 86 Ghanaians were deported from the United States of America to Ghana.
They were reportedly arrested at different states for various immigration offences such abuse of the terms of their visas and engaging in illegal employment. The deportees, all males, came on a chartered flight.
1,968 Ghanaians deported in 2016
Statistics from the Ghana Immigration Service (GIS) revealed that a total of 1,968 Ghanaians who travelled to various countries around the world were either deported or refused entry to the country they were travelling to in 2016.
The breakdown of the figure shows that 1,245 Ghanaians were refused entry into various destinations abroad for failing to meet their respective entry conditions in 2016.
This means the refusal of entry into various destinations of Ghanaians shot up by 50.5% from the 827 figure recorded in 2015.
Reasons for refusal of entry include the traveller failing to provide clear information on where the individual is going, misbehaviour towards immigration officer, not having sufficient funds, information provided at entry point contradicts information provided on application form submitted to the embassy to get the visa, and possessing a fake visa.
It is explained that visa offers partial clearance and that immigration officers have the discretion to grant or deny travellers entry.
Source: Daily Graphic
Latest posts by Classic Ghana
(see all)