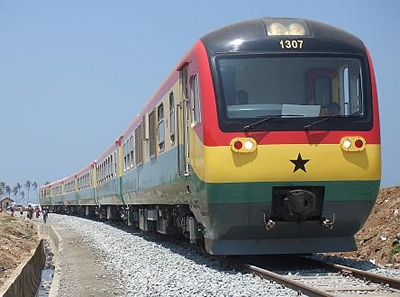 Rehabilitation works on the Accra-Nsawam rail line is expected to be completed by next December and passenger and light train service will be restored before Christmas, Mr Joe Ghartey, the Minister for Railways Development has announced.
The rehabilitation became necessary following derailment of an Accra bound Diesel Multiple Unit last October, after which the Ministry decided to undertake major rehabilitation of sections of the Eastern Line, including; the Accra-Nsawam railway line.
The contract for the rehabilitation, signed on December 2017, for a term of seven months, was awarded to the Ghana Railways Company, at a sum of GH¢15,034 million.
However, Mr Ghartey answering questions related to the sector, in Parliament, Accra, said the term had to be extended because of unforeseen circumstances, including an initial difficulty related to the acquisition of treated wooden sleepers.
Mr Frank Annoh-Dompreh, MP for Nsawam –Adoagyiri  had asked the Minister  the extent of progress chalked  with the Ministry's bid to revamp the Accra-Nsawam railway line.
The questioner also wanted to know from the Minister what works had been done on the Eastern Railway line and the challenges the Ministry was facing.
According to the Minister, who is also the MP for Essikado in the Western Region, "the acceptable quality of treated sleepers could not be obtained in Ghana.
"An offer from the United States of America also proved unsuitable. Suitably treated wooden sleepers were identified in China. An order has been placed and the sleepers will be delivered by August 2018."
Another challenge, the Minister mentioned was the deterioration of the formation, caused in some cases by human activity.
He said soil stabilisation and restoration of the formation had led to the contaminated sub grade soil being removed and replaced by boulders; and old bridges and culverts would also be replaced wand drainage constructed.
"The ballast will be replaced and all rotten sleepers will be replaced. The formation will be resorted where it has been destroyed. The existing stations will also be rehabilitated under this rehabilitation programme," Mr Ghartey said.
He gave the assurance that despite the challenges, significant progress had been chalked, and "the most difficult parts of the rehabilitation is being currently undertaken."
On the challenges being encountered on works of the Eastern Railway Line, which stretches from Accra-Tema to Kumasi, the Minister said they included; encroachment, right of way, and continued human activity that interfered and undermined the rehabilitation process.
Mr Ghartey spoke of negotiation processes with bidders for the contract "intended that the agreement with the successful bidder will be concluded in or before August this year and presented to Parliament for approval.
"Soon thereafter, the construction of the new standard gauge Eastern Rail Line will commence."
Source: GNA
Latest posts by Classic Ghana
(see all)