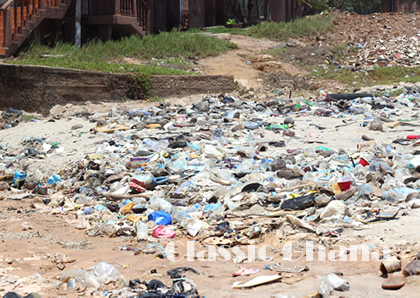 The African Development Bank (AfDB) is calling for collective action to reduce the pressing environmental and health challenges posed by plastic waste.
This was made on the occasion of the World Environment Day, which falls on June 5 and the World Oceans Day, June 8, in a release copied to the Ghana News Agency.
World Environment Day is the United Nations principal vehicle for encouraging awareness and positive action for the protection of the environment.
This year's theme, "Beat Plastic Pollution", calls on people to effect changes in their daily lives to reduce the heavy burden of plastic pollution on the environment and human health.
The AfDB considers over-reliance on plastics as a major environmental challenge, especially considering the pollution that comes with badly managed plastic waste.
Anthony Nyong, AfDB's Director for Climate Change and Green Growth, said "the statistics about plastic pollution are alarming. Indeed, it is estimated that a total of 500 billion plastic bags are used every year around the world and that 13 million tons of plastic leak into the ocean, including the plastic bags that we use and throw every day. This plastic waste is often thrown away in the rivers, seas, and oceans, and contributes to fill ocean bottoms or float on the water surface."
In the same way, these plastics litter beaches with serious consequences on the environment and health.
"They affect our lives and undermine our efforts to promote green growth in Africa," Nyong said.
The Bank is leading by example and is taking positive actions towards reducing waste generation as well as encouraging recycling and recovery. As part of 2018 World Environment Day, the Senior Management and staff of the Bank signed a "Pledge Board" to reduce plastic waste and ensure a better and healthier workplace environment.
Beating plastic pollution and transitioning to sustainable waste management practices requires a strong enabling environment involving all stakeholders including policy-makers, informal and formal waste and resource management actors as well as civil society organizations.
The Bank welcomes the Government of Côte d'Ivoire's ban on the production, import, and sale of single-use plastic bags, as it creates the framework for embedding design for recycling and the circular economy into design and manufacturing processes.
The "Pledge Board" signing by Bank staff is in line with the African Development Bank's ongoing efforts to comply with the ISO 14001 environmental management system that provides practical tools and standards for companies and organizations to manage their corporate environmental responsibilities.
The activities for the week include a panel discussion on "Beating Plastic Pollution in Africa."
Source: GNA
Latest posts by Classic Ghana
(see all)