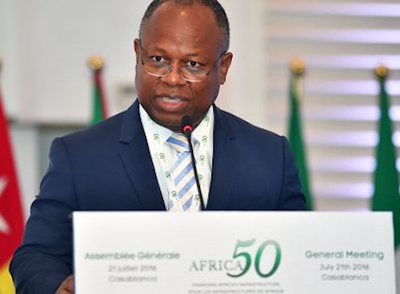 "Africa50", a new investment platform, aims to speed up infrastructural development on a continent that is facing a shortfall of up to US$108 billion a year in funding for projects, the institution's Chief Executive Officer, Alain Ebobisse, has told the Ghana News Agency (GNA).
Africa needs to spend between US$130 billion and US$170 billion a year to fund much-needed infrastructure projects that will make a huge difference to the development of the continent.
Speaking exclusively to the GNA in Nairobi, where Africa50's third general shareholders meeting was held last week, Mr Ebobisse said that his institution was complementing the search for funding to bridge the infrastructure gap in Africa.
Established by the African Development Bank (AfDB) in 2016, Casablanca-based "Africa50" "is a private investment fund – but one that happens to be owned by governments and the African Development Bank."
Mr Ebobisse, a Cameroonian with 18 years' experience at the World Bank, said, "We were set up to invest only in bankable projects, so we are not a public sector agency that gives concessional loans".
"We are willing to take more risks to start things off."
It had raised almost US$900 million in committed capital from its shareholders comprising the AfDB, two central banks and 26 African countries, including Ghana and Rwanda, which became the latest shareholder last week.
Given that Africa was starting from a low base in terms of infrastructural development, any improvement will make a welcome change, as former Nigerian President Olusegun Obasanjo and his co-authors noted in their book, "Making Africa Work"
"African infrastructure is so poor at the moment that even slight improvements can dramatically affect the business climate of many countries and signal the beginning of a turnaround."
Mr Ebobisse shares this believe and said "Africa50 is about delivering stuff quickly".
"If we spend a lot of time on one project, the opportunity cost would be too high."
Africa50 focuses on transport and power, which represent almost 70 per cent of projected infrastructure investment needs between now and 2025.
Power includes renewable and conventional generation, power transmission and distribution, and mid and downstream gas infrastructure.
He added that special attention was placed on providing electricity in the rural areas to create job opportunities that will halt the rush to cities.
"I believe that once you have power it will generate enough economic activities to make people want to stay in rural areas instead of move to cities."
He said governments had an obligation to create the enabling environment for development in the rural areas "otherwise capital cities will be flooded by people from the rural areas".
"By 2050, Lagos will be the third most populous city in the world and with the current state of the infrastructure, it would be a nightmare to deal with this growth."
Mr Ebobisse said bankable projects were those that lenders were willing "to finance and manage the risk".
He added: "Some people come to Africa with project ideas and tell us: 'Don't worry we will do it for you'. Then we ask: 'Were have you done this before? "We are not a test ground [any more]."
Africa50 has an independent investment committee that scrutinises projects to make sure that they are economically viable and will provide reasonable return on investments for lenders, all of whom are shareholders in the institution.
One thing that Africa50 has going for it is the speed with which it plans to complete its projects.
Most of the time the delays are caused by governments taking their time to sign agreements.
"If you are waiting for a government to agree to a major project for three months, that is three months wasted."
Mr Ebobisse said "we can help to move governments but we have to be realistic about our power because, in the end, governments decide what they want done".
Africa50 has made major investments in a number of shareholder countries, including Egypt (400-megawatt solar power plants), Nigeria (100-megawatt solar power plants in Jigawa State) and Senegal (120-megawatt combined cycle thermal power plant).
Mr Ebobisse was upbeat about the future of Africa50, telling the GNA: "It's about this new way of having things done that will confirm the narrative that Africa is in charge of its own destiny.
"It's an African instrument supported by African countries, staffed by first class people who are ready to move the infrastructure agenda forward fast.
"We are totally Africa focused but we have a global reach in the sense that [senior members of management] are comfortable speaking about Africa50 and Africa in Tokyo, China, Paris and London.
"Africa50 is led by global experts who are extremely committed to Africa," Mr Ebobisse added.
Source: GNA
Latest posts by Classic Ghana
(see all)