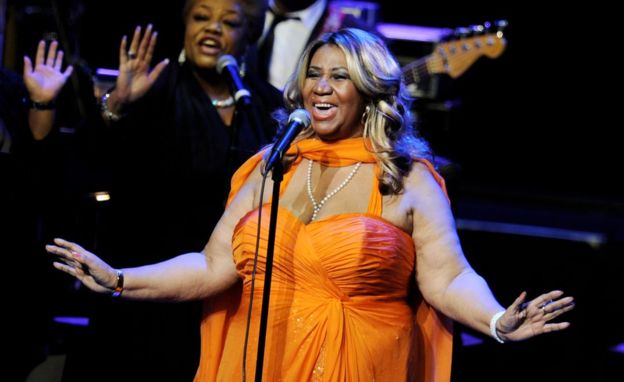 Aretha Franklin, the "queen of soul" known for hits like Respect and Think, has died in Detroit at the age of 76.
The legendary singer was diagnosed with cancer in 2010 and announced last year she was retiring from music.
Franklin won 18 Grammys, and had 17 Top Ten US chart hits over a music career spanning seven decades.
The star gave her final performance last November at a gala in New York held in aid of the Elton John Aids Foundation.
In a statement, her family said: "In one of the darkest moments of our lives, we are not able to find the appropriate words to express the pain in our heart.
"We have lost the matriarch and rock of our family. The love she had for her children, grandchildren, nieces, nephews and cousins knew no bounds."
The family also confirmed her death was due to advanced pancreatic cancer of the neuroendocrine type.
Born in Memphis to a gospel singer/pianist and a celebrated Baptist preacher, Franklin was tutored from an early age by such gospel stars as Mahalia Jackson and Clara Ward.
She struggled to find fame in the early years, with record label Columbia unsure how to frame her impressively powerful voice.
After moving to Atlantic Records in 1966 she broke through, and released some of her most iconic songs like Respect soon after the switch.
By 1968 she was renowned throughout America and Europe as "Lady Soul" – a symbol of black pride who appeared on the cover of Time and was given an award by Martin Luther King.
Who has paid tribute?
Reaction to the death of the soul legend has poured in throughout Thursday – as high-profile figures paid tribute to her musical legacy and commitment to US civil rights.
Sir Elton John said he "adored and worshipped" the star, and wrote: "the loss of Aretha Franklin is a blow for everybody who loves real music."
Former Beatle Sir Paul McCartney wrote: "Let's all take a moment to give thanks for the beautiful life of Aretha Franklin, the Queen of our souls, who inspired us all for many many years."
Mariah Carey paid tribute to the Queen of Soul on Twitter, calling her an inspiration, mentor and friend.
A number of other stars including John Legend, Britney Spears and Tony Bennett shared their memories.
In the world of politics, President Trump and his daughter Ivanka tweeted tributes to the soul star.
Former President Barack Obama, whose inauguration she performed at, released an emotive statement with his wife Michelle saying Franklin's music "helped define the American Experience".
Civil Rights campaigners Reverend Jesse Jackson and Reverend Al Sharpton shared touching tributes to their friend of decades.
The National Association for the Advancement of Coloured People (NAACP) also released a statement celebrating Aretha Franklin's life and contribution to the US civil rights cause.
"No one can discuss the civil rights movement nor music without paying respect to the Queen of Soul," NAACP chairman Leon W. Russell said.
Franklin performed an eye-catching cameo in cult comedy The Blues Brothers, and then she scored a number of big hits in the 1980s including Who's Zooming Who? and the George Michael duet I Knew You Were Waiting (For Me).
She was awarded the Presidential Medal of Freedom by President George W Bush in 2005, when she was saluted for "capturing the hearts of millions of Americans".
Ten years later she reduced President Barack Obama to tears when she sang (You Make Me Feel Like) A Natural Woman at a Kennedy Center Honours ceremony, having previously performed at his inauguration.
The BBC's Sima Kotecha interviewed Franklin in Detroit in 2007, and shared memories on Thursday of meeting the international star who "put her at ease straight away"
"She was warm, honest, generous. Her candid responses were refreshing and spoke volumes about her experience as a big star in the global media spotlight."
Source: BBC
Latest posts by Classic Ghana
(see all)