After his National Service, Ishmael Anakwa Lartey did not go job hunting like many graduates do, because he had a plan in place to help launch his career.
He planned going into art some few months to ending his national service in 2017 and started his business Afroheadgh, a customization outlet.
"Basically, I paint faces on cotton tops and jeans. I also do a bit of graffiti on jeans jackets (Which is custom to what the person want) and Bible verses or symbols too."
"Everything I do is handmade with acrylic paints and brushes," he added.
Starting with digital arts, he sought to produce wearable items and so needed to scout for other alternatives which landed him into painting faces on cotton shirts and jeans.
"Because printIing wasn't durable after washing, I switched to painting which has received massive response from the public."
Working from a small space from home in Accra, Ishmael receives orders from clients through social media and work to paint faces on cotton shirts and jeans based on the preference of customers.
Asked who his target market is, he averred, laughing, "my target is everyone that has a face,"
"My inspiration itself is life…the struggles…getting something doing for myself"
For Ishmael, creating art pieces is his passion, and a way to express art through outfits.
Below are his handy works.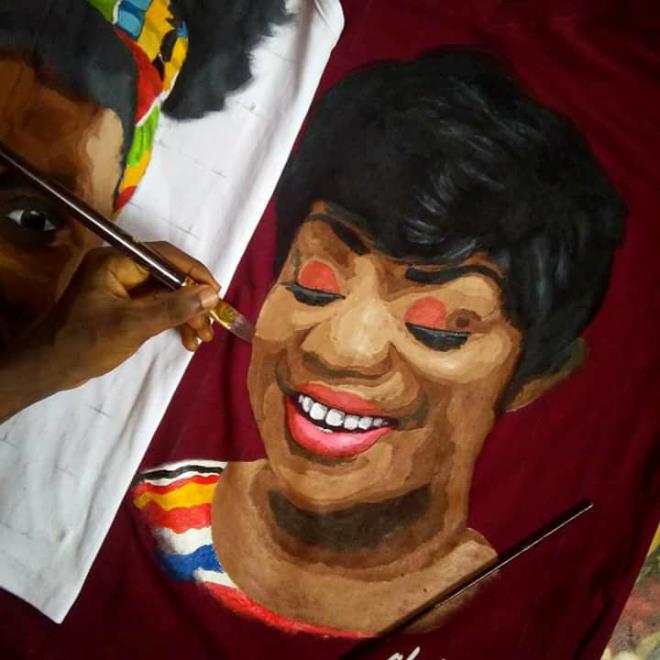 By Pamela Ofori-Boiateng
Source: Modern Ghana
Latest posts by Classic Ghana
(see all)