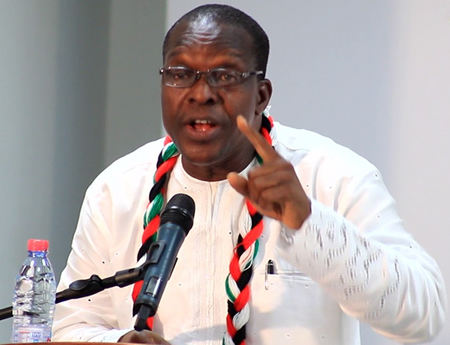 A former Attorney-General and Minister of Justice, Mrs Betty Mould Iddrisu, has stated that Mr Alban Sumana Kingsford Bagbin, the second deputy Speaker of Parliament, is a presidential material.
Mrs. Betty Mould Iddrisu, who is a national Vice Chairperson of the opposition National Democratic Congress, said Mr Bagbin is a seasoned lawyer with vast experience in governance and politics.
This was in response to a question posed by Mr Stephen Ashitey Adjei, who wanted to know from her if indeed Mr Alban Bagbin, Second Deputy Speaker of Parliament could be a Presidential material for the Party in the 2020 polls.
"Alban Bagbin is my husband and he is a very good person" she said. Mrs. Betty Mould Iddrisu told Tema East NDC Executives at a naming ceremony organised by the constituency Zongo Caucus co-ordinator, Alhaji Zibo Abdulai, that Mr Bagbin has a unique brain power whose contribution to the country's democracy cannot be measured.
She added that the NDC was more united than before and that was why the party's council of elders such as Dr. Obed Asamoah, Edward Doe Adjaho, Captain Kojo Tsikata, Nii Okaija Adamafio and others met often to promote the interest of the party.
She criticised the vigilante groups of the ruling New Patriotic Party such as the Delta and invincible forces for the indiscipline in the country and commended late President Mills and Former President Mahama for their good works.
Mrs Betty Mould Iddrisu also used the occasion, which took place at Tema Community one, site two, to commend Tema East NDC Executives and aspirants present including; Kempes Ofosuware, a former Tema Metropolitan Chief Executive andMr Issah Alhassan, Assemblyman of the area for the spirit of Unity.
Alhaji Yusif Abdulai, an aspiring Constituency Organiser and Seidu Abdulai, aspiring Constituency Secretary, were full of praise for Mrs. Betty Mould Iddrisu for her brilliant speech.
Mr Hussan Mohammed Basher, Aspiring constituency youth organiser, advised the rank and file of the party to work hard in order to re-capture political power in 2020
''In an examination, it is either you pass or fail, the NPP government has failed and must be booted out in 2020.
Source: GNA
Latest posts by Classic Ghana
(see all)