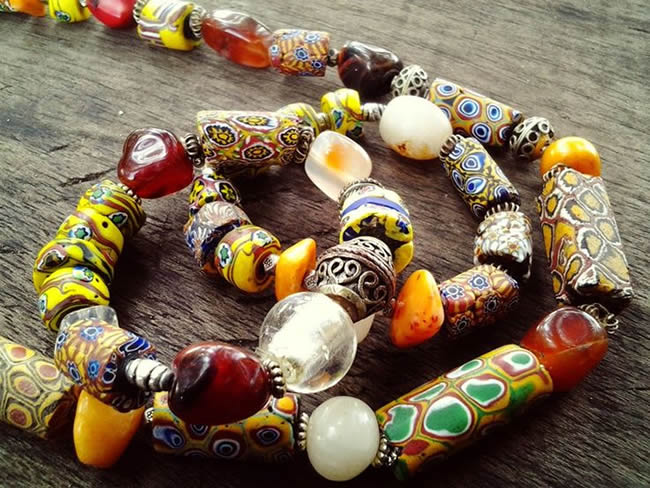 Bead makers in Ghana have adopted modernised methods to transform the traditional beading styles into the fashion industry to attract the youth.
A Ghana News Agency survey, focusing on the bead making industry indicates that, the indigenous "Krobo" beads is now facing serious challenges from the western type of glass and acrylic beads as well the ceramic and wooden ones.
Scores of bead makers told the GNA in an interview that, the "Krobo" beads, even though more durable, seems to be losing its market, due to its heavy weight and sometimes dull colours, compared to the western glassy beads,
Ms. Rejoice Dogber, Bead-maker of "Deveila GH" told the GNA that bead making is an art, which requires ones understanding of colour, "one's ability to combine weird colours, which are usually not common, to create a uniqueness in design".
She said beads are now used to manufacture bags, bracelets and all forms of jewelleries as well as in the designing of foot wears, hairs and clothing.
Ms Dogber noted that, the fashionable beads is also gradually pushing the traditional Krobo waist beads to the background as, "our ladies now prefer using the fashionable beads as necklaces, anklets and bracelets among others".
Mrs Lynda Naa Nartey, Bead maker and Chief Executive Officer of Naakyoqlaitcollectionz explained that there are different types of beads and includes recycled glass, crystal, rubber, wooden and clay beads.
Others are stone, metal, flat, paper and straw beads.
She said beads could be used for earrings, bracelet, anklet, waist beads, necklace, hair accessories, bag accessories, key holders and slippers.
Source: GNA
Latest posts by Classic Ghana
(see all)