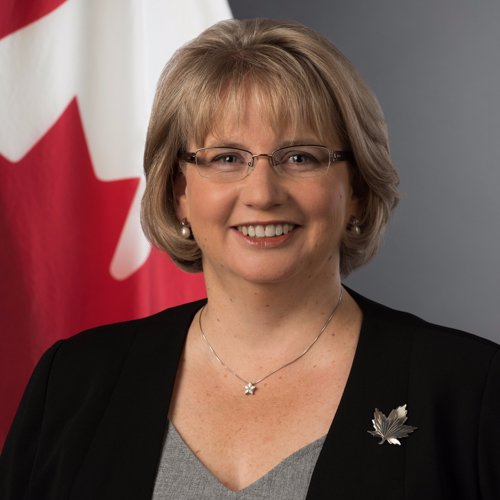 The High Commissioner of Canada to Ghana, Dr Heather Cameron, has said that Canada remains open to the world and will welcome over 300,000 new residents this year.
Very soon, she said, many more students would be heading to Canada for world-class education, adding that Canadian alumni were active in Ghana and continued to grow and make economic and social contributions to the country.
Dr Cameron observed that Ghanaian-Canadian diaspora were engaging in Ghana, saying she was also pleased about the roles that Ghanaian-Canadians were playing in shaping Canada.
She was addressing ministers of state, Members of Parliament, members of the diplomatic corps, traditional and religious leaders and other distinguished guests at a reception to celebrate Canada's National Day in Accra.
Dr Cameron said: "Whether it is some of Canada's top entrepreneurs or as one of Canada's strongest new literary voices, Canadians with roots and ties to Ghana are shaping us as a country along with others from around the world," she noted.
Multilateralism
The High Commissioner noted that Canada`s efforts demonstrated that "we are working to contribute to a new multilateralism, where benefits are distributed more broadly, more evenly and more fairly; a new multilateralism where commitments are fulfilled, implementation happens and results can be experienced by people."
She said the United Nations Security Council had an important role to play and assured that we could count on Canada to stand up for things that mattered and to focus on building bridges, rather than divisions.
Dr Cameron gave an assurance that they would continue to be relentless in their diplomacy, sincere in their partnerships and innovative in their approaches.
"That is our commitment as we continue to campaign for a seat on the UN Security Council in 2021-2022," she added.
The High Commissioner announced that Canada's Minister of Foreign Affairs, Mrs Chrystia Freeland, had been an active and important voice on the importance of multilateralism and of sustaining liberal democracy.
She said Mrs Freeland was named "Diplomat of the Year", and that as High Commissioner, it was a privilege for her to work here in Ghana to help advance these shared priorities.
"Whether it is to bring new voices and women's voices to the discussions on global and regional peace and security, to convene partners together to stand united in the face of shared challenges or to help innovate in important areas such as migration and refugees, Canada is active, engaged and working to find common solutions", she reiterated.
"We want to help build forward-looking approaches to the world's toughest problems", she stated and said they believed that Canada`s unique diversity could help to do so.
Chamber of Commerce
Mrs Cameron said Canada-Ghana Chamber of Commerce also continued to focus on new sectors such as aviation, oil and gas, as trade diversities.
She said responsible business practices, including corporate social responsibility and reducing the environmental footprint of natural resource industries with a focus on clean technologies and renewable energies, remained important pillars of Canada's approach to trade in Ghana and to their own development at home in Canada.
The High Commissioner noted that the past year had been a busy one for Canada, advancing free trade through new agreements with their United States and Mexican partners, with the Trans-Pacific region, and with other countries around the world.
She said the trade was fundamental to Canada's economic success and believed that "it was fundamental to Ghana's success" as well and commended the government of Ghana for its ratification of the African Continental Free Trade Agreement.
Working together
Mrs Cameron observed that their partnerships with the government, development partners and civil society organisations had allowed them to advance their shared agenda.
"Our work is guided by innovation, and we are continuously seeking new or improved business models, policy practices, technologies or new ways to deliver services," she stated.
For instance, she said Canadian expertise had helped ensure that Ghana had the only internationally certified welding facility in the West African region, adding that agricultural techniques were being modernised and adapted to a changing climate.
"Whether it is training in advanced mathematics or establishing linkages between research results and farmers, helping to develop clean-energy training or advocating better access to financial services for women, we are contributing to Ghana's current and future prosperity," she stated.
Women's Day
In March this year, she said, to celebrate International Women's Day with the Western Region and the Ghana Education Service, they organised a Science, Technology, Engineering and Mathematics (STEM) career fair in Takoradi for over 600 girls and their parents.
In June, she said, Canada hosted Women Deliver in Vancouver, the largest conference on gender equality and the health, rights and wellbeing of girls and women.
She announced that they celebrated with global leaders, including Ghana's President Nana Addo Dankwa Akufo-Addo, the progress made in advancing rights and empowerment, and reaffirmed their commitment to do more to make gender equality a reality for everyone, everywhere.
In Tamale and Accra alone, she said their youth entrepreneurship programme helped more than 7,150 youth last year to develop an "innovative mindset" and to start and, or grow their businesses.
She said she was pleased to visit the programme and others over this past year and was struck by the talent and energies of Ghanaian women and men who were creating new opportunities, developing their talent and helping to grow Ghana's economy.
Appreciation
The High Commissioner expressed Canada's heartfelt gratitude to the government of Ghana for the safe return of their two Canadian volunteers who were released from captivity just a couple of weeks ago.
She said they were so thankful for the efforts of those in government, in the security and law enforcement agencies who made serious decisions that enabled not only the safe return of these young Canadian women but also the capture of those perpetrators.
"This successful outcome is an important milestone for Ghana, and for Ghanaians, for it reaffirms the commitment of many to sustaining peace and security in Ghana," she stated.
She also thanked all the Ghanaians, Canadians and members of the international community, who offered support, encouragement and assistance.
Source: graphic.com.gh
Latest posts by Classic Ghana
(see all)