It was 12:15 p.m. and the hot rays of the sun smiled broadly on the stone quarry at Omanjor. As I walked through the stony and dusty quarry path, in the Trobu Constituency of the Ga West District my desire to know extensively about the nature of work there intensified.
The story of workers at the stone quarry is a worrying one because a tedious day's labour only reaps little in return.
One such worker is 39-year-old Charity Kissi, a single mother and native of Mafi-Avedo in the Volta Region who lives at Omanjor and has been cracking stones for the past eight years to help build the nation while poverty cracks her life rather badly.
Abandoned by her husband and with four children to cater for – two boys aged 15 and eight, and two girls aged 18 and three – and with no education or training in any handicraft, cracking stones is a critical enterprise for her survival.
Marriage
Charity was married to a station master at the Omanjor Lorry Station, but after 15 years of marriage, he abandoned her for another woman. Her husband had twice previously married but had no children until he married Charity, who gave him two boys and one girl.
Her first daughter is the product of a previous marriage.
According to Charity, she found out that her husband had eight other women he was seeing apart from her. Eventually, her husband married another woman after which he packed her bags and gave her GH¢200 and drove her out of their matrimonial home.
"He never bothers to cater for the children. All he does is to provide some money for feeding and closes his mind to any other duties," she said.
Stone quarry
Charity came to the stone quarry when life became unbearable for her and the children.
She had to double her efforts in stone cracking during the dry season before the rains set in because the rains made the job very difficult.
She cracked stones to the quantity of 45 head pans to fill a single-axle truck.
This earns her GH¢150 when business is good and GH¢130 when business is bad. The single-axle trucks charge clients GH¢450 per load.
"We have to chase the excavators to dig out rocks for us before we can crack otherwise we buy pits at GH¢300 and dynamite powder at GH¢32 to blast the rocks after which you can work on it as long as you want until you decide to sell it to someone else," she explained.
"Nowadays, people prefer the gravels to our type of stones, thus killing our business gradually. I recently had a truckload of stones returned after my client and his children rejected it claiming it was outmoded and no more in use.
"As a result, the stones are sometimes left unsold for three to four months after being cracked".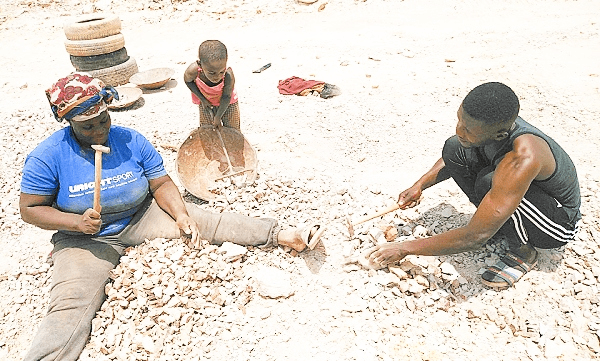 Charity sometimes picks empty water sachets and collects firewood to sell to food vendors apart from selling fried yam and potatoes when business in the quarry goes down.
Charity admits working in a stone quarry is a risky job that poses serious danger to health "so one has to be very careful all the time.
"My toes have all been destroyed by the stones and I have to visit the pharmacist every day after work or boil some herbs and drink in order to regain my strength for the next day's work," she said.
Upkeep of children
Charity still lives in her husband's family house and intends to rent her own room.
Most often, her children joined her in the quarry to help crack stones to ensure their livelihood.
She said when her eldest daughter was about to go to senior high school, she sought support from her two siblings, one a police officer, and the other a teacher, with little support from her husband.
The fees of her younger children are all borne by her and she prays for strength and grace from God to help take good care of them.
Charity wishes to have a better future for her children and a place of residence where she can have her peace of mind.
As a member of the New Covenant Apostolic Church at Omanjor, she is relying on her faith in God to make her life better than it is presently.
• The writer is a student journalist on internship at the Daily Graphic
Source: graphic.com.gh
Latest posts by Classic Ghana
(see all)