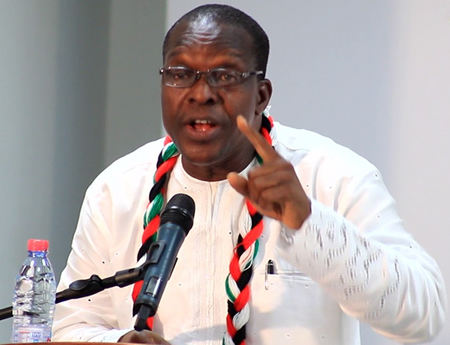 Nana Asiedu Kweku Donkor, an 'Nkosuohene' (Development Chief) of the Kwahu Traditional Area has said that Mr Alban Bagbin, Second Deputy of Parliament had been spot on with the observation that the appointment of a Person with Disability to the Chieftaincy Ministry was misplaced.
He said the Second Deputy Speaker of Parliament was not only speaking the truth, but was also speaking the minds of many offended chiefs.
"In Ghanaian tradition, Chiefs are not allowed to deal with people who are physically challenged in anyway, including; people who suffer blindness, and so Mr Bagbin had spoken the truth when he said the appointment of somebody like that as Minister for Chieftaincy Affairs had courted anger from the chiefs."
Nana Kweku Donkor made the statement during a funeral reception of his mother, Maame Abena Afi at Kwahu Mpraeso on Saturday, who died at a ripe old age of 110.
Mr Bagbin graced the funeral as a special guest of honour and was mobbed by enthusiastic fans, supporters, and townsfolk, who apparently thronged the funeral grounds to show him support.
Some Ghanaians took the Second Deputy Speaker of Parliament to the cleaners for allegedly making some unsavoury comments about some of Former President Mahama's appointments that might have hindered the orderly progress of their 2016 campaigns and subsequent loss.
Among others, he had said that the former President's appointment of Dr. Seidu Danaa, a visually challenged man, as the Minister for Chieftaincy Affairs was a decision that had courted hatred for the NDC from Ghanaian chiefs, since in Ghanaian tradition, chiefs are not allowed to deal with visually impaired persons.
Mr Bagbin also observed that Dr. Danaa was a respectable and learned person who could have fitted into any other Ministry, apart from the Chieftaincy Ministry, since his appointment went against Ghanaian culture.
He added that even though President Mahama meant well, the appointment of Dr. Danaa had ended up courting anger among the chiefs for the NDC government, which contributed greatly to the unprecedented defeat of the NDC in 2016.
In the same statement, Mr Bagbin also said that President Mahama's appointment of Samuel Okudzeto Ablakwa as Deputy Minister of Education, in charge of Tertiary Education, was a miscalculation as he had had issues with University authorities back in his days as a student at the University of Ghana.
He added that President Mahama had also gotten it wrong when he appointed Dr Omane Boamah as the Minister of Communication since he stammered and his speech challenges had a bearing on his eloquence.
It is while this brouhaha is still on-going that a royal has come out to tell the whole world that the Second Deputy Speaker of Parliament had spoken the plain truth.
"I am not NDC, I speak as a Ghanaian Mr Bagbin spoke the absolute truth. In this our part of the world, we, excuse me to say, do not appoint people who are disabled as chiefs, neither do we allow our chiefs to associate with them," Nana Asiedu Kweku Donkor said.
The chief said the appointment of Dr Danaa had offended Ghanaian chiefs and the national House of Chiefs, but that the chiefs had kept mute over the issue because it was not in the character of chiefs to openly lament.
Mr Bagbin's statement he said was therefore a vent for the Chiefs of Ghana.
According to the Nkosuohene of the Kwahu Traditional Area, Mr Bagbin deserved to be commended rather than condemned, adding that Ghana needed honest people like the Nadowli-Kaleo MP.
Meanwhile, a member of the Communication Team of the ruling New Patriotic Party (NPP), Saaka Salia, has also defended recent comments by Second Deputy Speaker of Parliament affirming that in Ghanaian culture, visually challenged persons were kept at arm's length from chiefs and traditional rulers and therefore it was a miscalculation by President Mahama to appoint Dr. Danaa as Chieftaincy Minister.
Mr Salia said the backlash at Mr Bagbin was unfounded because the man had spoken the truth, especially in the matter of appointment of Dr Seidu Danaa to the Chieftaincy Ministry.
Source: GNA
Latest posts by Classic Ghana
(see all)