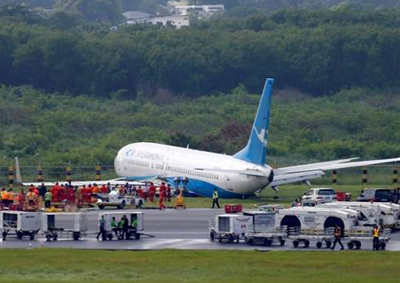 A Chinese commercial plane skidded off the main runway of the Philippines' main international airport amid heavy rains, causing massive flight disruptions that affected thousands on Friday, officials said.
At least 69 domestic and international flights were cancelled, while 12 were diverted after authorities were forced to temporarily close the main runway of Manila's Ninoy Aquino International Airport due to the accident.
A Xiamen Airlines Boeing 737 overshot the airport's main runway as it was landing at almost midnight on Thursday (1600 GMT Thursday), ending up on its belly in a grassy area near the perimeter fence. One of the plane's engines and a wheel were ripped off.
All 157 passengers and eight crew members were evacuated from the aircraft safely, said Ed Monreal, general manager of the Manila International Airport Authority.
The jet had "misapproached" on its first attempt to land and lost contact with the airport control tower on the second try, Monreal said.
"Our priority now is to reopen the airport runway immediately, but we are not rushing because we value the safety and security of all the people," he told reporters.
Monreal said the airport authority hired two mobile cranes to lift the plane, which officials hope would be completed by 5 am on Saturday (2100 GMT Friday).
"We offer no excuses, just a promise to bring flight operations back to normalcy by tomorrow using all our internal resources and, if needed, employ outside resources notwithstanding the cost it will entail," he said.
The flight data recorder of the plane has been recovered, but the Civil Aviation Authority of the Philippines does not have the capability to extract its content and will have to send it to Singapore for investigation.
Investigators were looking into various factors, including weather, technology and communications between the pilot and airport control tower, as possible causes of the accident.
Source: GNA
Latest posts by Classic Ghana
(see all)