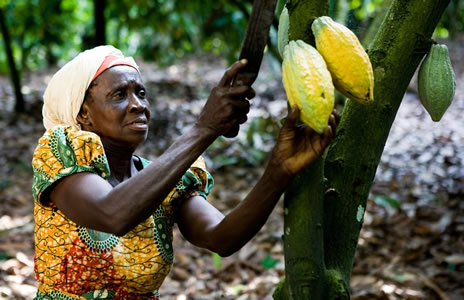 Dr Isaac Boakye Danquah, the Ashanti Regional Monitoring and Evaluation Officer of the Cocoa Health and Extension Division (CHED) of COCOBOD, has called on cocoa farmers to improve on their knowledge in the management of their farms.
He said they can do this by participating in the farmers' business training programme of the farmers business school which has been established by COCOBOD in collaboration with the German International Cooperation (GTZ).
The school would help provide business skills and knowledge to farmers in cocoa growing communities to enable them manage their farms, as business ventures.
It is therefore important for cocoa farmers to take keen interest and actively participate in the training programmes which included extension services, to increase on their yields and enhance their incomes.
Dr Danquah made the call at a farmers' forum organized by CHED for cocoa farmers in the Sekyere Kumawu District at Oyoko.
The forum brought together farmers from the various farming communities in the district to discuss issues and challenges facing them.
It also created the platform for the farmers to interact with extension and technical officers to share ideas on new techniques and agronomic practices to improve farm management in order to increase crop yield and income.
He said the business training school enables farmers to learn and practice the right basic business skills and principles such as record keeping, accounting, among other simple financial best practices, inculcating these into the farming businesses.
He said the farmers are made to understand that they are managers of their businesses and that, key business applications such as internal rate of returns, benefits-costs ratios, profit calculations and expenditure planning among others, are explained to them.
This will help them to apply these principles in order to utilize their resources well and make rightful choices for their investments.
Dr Danquah urged cocoa farmers to see their farms as businesses and always seek technical advice from extension officers, especially in the areas of pollination, pruning and spraying of the cocoa trees in their farms.
He also urged them to join farmer groups and cooperatives to enable them access financial support in their farming activities.
Mr Samuel Addai Agyekum, the District Chief Executive (DCE) of Sekyere Kumawu commended CHED for the opportunity given to farmers and urged the farmers to always cooperate with the extension officers in order to improve their yields.
He called on the youth to take interest in agriculture, adding that, the assembly together with COCOBOD has nursed over 120,000 cocoa seedlings which would soon be distributed freely to farmers for planting.
Mr Samuel Kofi Buah, the Asante Mampong District Cocoa Officer, urged cocoa farmers in the area to cooperate with CHED technical officers in the ongoing rehabilitation program which seeks to cut down and replace aged, weak and disease infected cocoa trees in their farms.
Nana Brobey Manu, the Sanaahene of the Oyoko Traditional Area, commended CHED for creating the opportunity for farmers to interact and share ideas with technical officers to improve on their farming businesses.
Source: GNA
Latest posts by Classic Ghana
(see all)