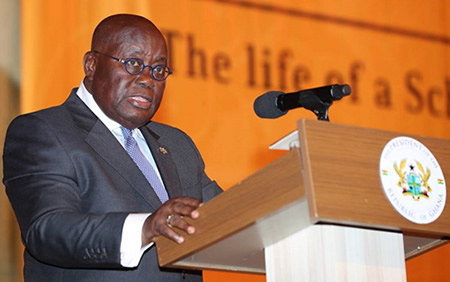 All Colleges of Education will be upgraded to University Colleges by September 2018, President Nana Addo has said.
Additionally, from September, President Akufo-Addo has indicated that a 4-year Bachelor of Education (B.Ed) degree will be introduced in the University Colleges.
"These Colleges will, initially, be affiliated with the University of Cape Coast, and, subsequently, to other public universities. This means that, eventually, a first degree will be the minimum requirement for teaching at any level of our education system", he said.
Currently, many teachers who complete the three-year Diploma in Basic Education (DBE) at the Colleges of Education go on, later, to do a two-year top-up first degree, by distance learning, at the University of Cape Coast.
This means that, in addition to the extra amount of money spent on getting a degree, it takes trainee teachers not less than five years to get a degree.
"With the introduction of the 4-year Bachelor of Education degree, you would now obtain your first degree at the end of your schooling. This ensures that you enter the teaching service as university graduates, with an increase in your earning capacity," the President added.
President Akufo-Addo made this known when he delivered the keynote address at the 170th anniversary celebration of the Presbyterian College of Education, in Akropong, in the Eastern Region.
Stressing the importance of teachers, the President indicated that all modern, successful nations that have experienced extraordinary results in the formation of human capital and economic development, such as Singapore, Finland, Korea and Canada, have shown that teacher quality is the single most important determinant of their success.
He, therefore, indicated that "for us also to make a success of our nation, we must pay attention to teachers. It is only a crop of well trained and motivated teachers that can help deliver the educated and skilled workforce we require to transform our economy."
In addition to this year's 11% increase in basic salaries for teachers, the President revealed that government has cleared all arrears, accrued between 2013 and 2016, owed teachers with respect to travel allowances, transfer grants and overtime allowances.
"Presently, Government is no longer accruing arrears. We have instituted an insurance package for teachers with SIC Life, which has been agreed on with the teacher unions. We have reinstituted teacher trainee allowances. Government intends to restore the teaching profession to the status it once enjoyed, and make it an attractive career choice," he added.
With Government focusing on improving the quality and strengthening the quality of technical and vocational education and training, the President indicated that his administration has, thus, begun the supply of equipment to boost the capacity of the Colleges of Education that specialize in technical and vocational teacher training.
Mampong Technical College of Education, four days ago, benefited from the provision of 2,586 pieces of assorted Science, ICT, Technical and Vocational equipment.
President Akufo-Addo assured that all other Technical Colleges of Education, including the Presbyterian College of Education, will, in the course of the year, receive their due share.
"These reforms form part of Government's vision to transform the country's education delivery system to meet the needs of a 21st-century economy, and to produce a skilled and confident workforce to drive the nation's agenda for industrialisation and modernization," he added.
Source: citinewsroom.com
Latest posts by Classic Ghana
(see all)