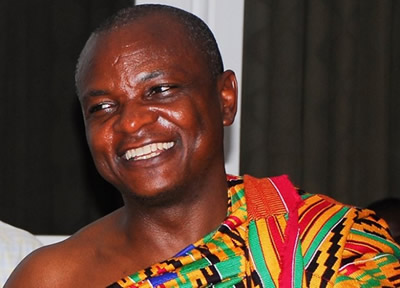 Togbe Afede XIV, the Executive Chairman of the World Trade Centre (WTC) Accra, has charged members of the African Diplomatic Corps to use their influence to convince their governments to set up WTC offices in their countries.
"We at the WTC-Accra believe that one way of promoting intra-Africa trade is to expand the concept of World Trade Centre to other African countries".
This, he said, has the potential to deepen and promote intra-Africa trade on the Continent and provide the needed network or platform to further its course.
Togbe Afede made the appeal at a meeting in Accra organised by the WTC on the theme: "Regional Integration: Role of the African Diplomatic Corps".
The meeting, the second in the series, brought together representatives of the African Diplomatic Corps to discuss the topic.
Tobge Afede said Africa accounted for about 30 per cent of natural resources and mineral reserves globally and 20 per cent of the world's landmarks, but sadly, only two per cent of the world's trade and about two per cent of total Gross Domestic Product (GDP) are attributable to Africa.
He said there was the need to increase the share of the world trade and global GDP and questioned why Africa accounted for so little when the potential was huge.
He urged African leaders to up their game and work to increase the Continent's trade, which must reflect in solving unemployment and reducing poverty.
Togbe Afede said there were enormous potentials for the Continent to deepen trade ties with the rest of the world and make it prosperous.
He said the only answer to the Continent's problems was to increase trade among African countries, adding that; "Only about 18 per cent of the total African external trade are among African countries as compared to the statistics for Asia, which had 59 per cent and Europe, 69 per cent."
Togbe Afede said the African Diplomatic Community could be a channel through which those concerns could be expressed to their governments.
Ms Jane Reindorf-Attoh, the Managing Director of WTC Accra, called on African diplomats to play a major role in promoting trade and investment for the Continent to realize her dream.
She said the Centre worked with the private sector and facilitated trade missions to other countries to provide partnerships, trade and investment opportunities.
"We also receive incoming trade missions of the private sector from other countries that want to do business in Ghana".
Ms Reindorf-Attoh said the meeting was structured to develop an action plan for implementation and monitoring to address pertinent issues and challenges hindering trade and investments in Africa.
Source: GNA
Latest posts by Classic Ghana
(see all)