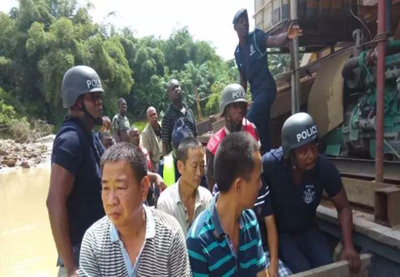 The Coalition Against Galamsey has asked government to take pragmatic steps to deal with the active involvement of Chinese nationals in the illegal mining activities in the country.
Mr Kennedy Asheigbey Convenor of the Coalition said the fight to stop illegal mining would not be achieved if the issue of continued involvement of Chinese migrants was not politically tackled.
Addressing a town hall meeting at Obuasi, Mr Asheigbey, pointed out that the continued involvement of foreign nationals, particularly Chinese, coupled with the inability of judicial system to grant heavy fines and custodial sentences on those arrested, were thwarting efforts to stop the galamsey menace.
Mr Asheigbey also spoke against the politicization of ongoing clamp down of galamsey and said the harmful effect and negative consequences on future of the nation should be the prime concerns of all.
He urged the government to be focused and court the active involvement of traditional rulers in fight since they were in the centre of the problem.
Mr Asheigbey appealed to government not to succumb to pressure to lift the ban on small scale mining but work to ensure that there were effective measures on the ground to prevent re-emergence of the problem.
Colonel Michael Amoah Ayisi, Commander of Operation Vanguard suggested to government to consider banning the importation of Chang-fan, which was being used by the illegal miners to destroy water bodies.
He said the continued use of machines despite the seizure and destruction of more than 5,766 of them indicated the continued importation of the Chang fan into the country and that was hampering efforts of the operations.
Dr Anthony Duah of the Water Research Institute said the use of harmful chemicals in galamsey was a serious threat to water bodies and other natural resources.
He said heavy metals and chemicals in rivers and other water bodies as well as the soil were the cause of many ailments including kidney diseases, which were becoming rampant in recent times.
Mr Elijah Adansi Bonnah, Obuasi Municipal Chief Executive in an address read on his behalf thanked the Coalition for taking up the challenge to support the government in the fight against the illegal mining.
Source: GNA
Latest posts by Classic Ghana
(see all)