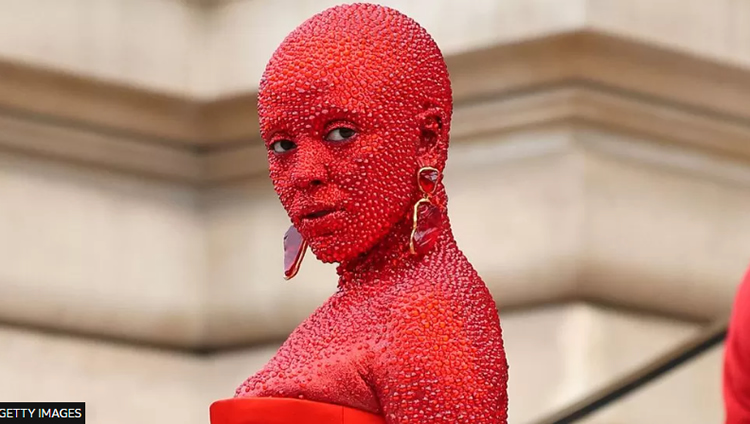 Pop star Doja Cat turned heads in Paris, wearing full red body paint and 30,000 crystals as Schiaparelli's show opened the city's Haute Couture week.
Her team took five hours to complete the bold look, titled Doja's Inferno.
She said Doja Cat had "sublime patience" and described the final product as "a magical, mesmerising masterpiece of sparkling brilliance".
The Swarovski crystals were applied by hand. As well as the body paint, the singer donned a red silk bustier, a heavily beaded tulip skirt and a pair of matching red knee-high boots.
Dame Pat posted a behind-the-scenes time-lapse video showing her team painting the star's skin and applying the thousands of crystals.
View this post on Instagram
She told Vogue the result was "evocative of sublime sculptures; a true feast for the eyes".
Roseberry became the first American to lead a French couture house when he took over at Schiaparelli in 2019. The fashion house was founded in 1927 by Elsa Schiaparelli.
Rihanna, Kendall Jenner and Julia Roberts are among the stars who have worn the label on the red carpet recently.
Monday's show featured several eye-catching looks, the most headline-grabbing being the lion and snow leopard 3D heads jutting out from a velvet and faux fur gown respectively.
It is not the first time Doja Cat, whose real name is Amalaratna Zandile Dlamini, has donned body paint in the name of fashion.
In October, the rapper covered herself entirely in gold body paint for A.W.A.K.E Mode's spring show in Paris, and she has experimented with zig-zag eye-make up at Vivienne Westwood.
Doja Cat is known for hits such as Say So, Streets and Kiss Me More.
Latest posts by Classic Ghana
(see all)