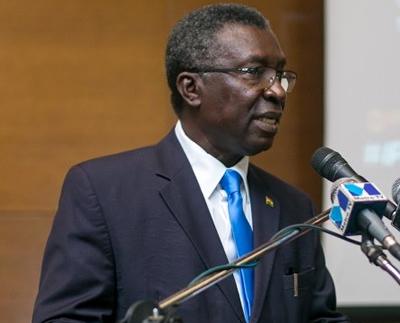 Professor Kwabena Frimpong Boateng, the Minister for Environment Science and Technology, has called on Ghanaians to desist from conniving with foreigners to destroy the Country's natural resources.
He said although small-scale mining was the sole preserve of the citizenry, some Ghanaians agreed with outsiders to use un-prescribed equipment to mine, leading to the destruction of the forest, water bodies, farmlands, among other rich resources because regulatory bodies were not well-resourced to clamp down on their illegal activities.
"The President is not against mining, but to make it better, so don't collude with foreigners," the Minister stated.
Professor Frimpong Boateng made these observations at the Meet-the-Press held in Accra to give briefing on how far government had come to regulate small-scale mining activities when the ban was lifted.
Based on this, about 3,000 of the miners from Ashanti, Central, Western and Eastern mining areas had been trained to ensure that they did not repeat the past mistakes of destroying resources which led to the ban on small-scale mining on April 1, 2017, he explained.
The Minister said they were taken through refined methods of operation to protect the biodiversity while mining.
He said besides that, the Water Resources Commission, Forestry Commission, District Assemblies, Minerals Commission, Environmental Protection Agency, Drivers and Vehicle Licensing Authority, together with Operation Vanguard had been resourced to carry out their work in checking small-scale mining.
To integrate their work, he said a Software App called "Galamstop" had been developed to coordinate their work and information about the miners would be entered in the software; License would be issued within 90 days of application and prescribed equipment will be determined.
Professor Frimpong Boateng emphasised that before the ban, there was enough education by the Media Coalition Against Galamsey for opinion leaders and stakeholders whereas Operation Vanguard also worked hard to clamp down on recalcitrant illegal miners, but that was not enough.
In all, ten percent out of the 1,400 illegal miners arrested were prosecuted while about 700 excavators, 6,000 dredging equipment and 84 cars were seized.
He said before the ban would be lifted, about 72 mining districts had been set-up, they be issued with Identity cards with security features, concessions will be given them and organised into cooperatives and their excavators would be electronically tracked so as to be monitored through drones, all to ensure sustainable mining.
The Minister called for compliance from the miners, on the side of the law enforcement agencies and appealed to all Ghanaians to buy into the vision of government to prevent diseases and destruction of resources as a result of mining in the mining communities.
Source: GNA
Latest posts by Classic Ghana
(see all)