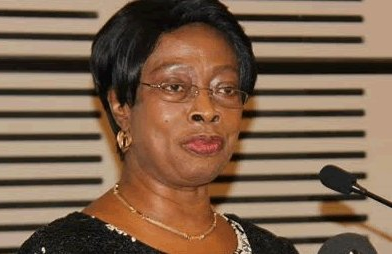 Ms Sophia A. Akuffo, the Chief Justice, has appealed to the youth to disabuse their minds of travelling to other countries to look for greener pastures but rather they should stay and help build the country.
Chief Justice said the countries that the youth were looking up to, were built by their own nationals and not migrants.
"The nations that we look jealously on were all at one point or the other just like us. The standard of living that we long to go and experience is as a result of years of unrelenting hard work, selfless dedication and unflagging patriotism.
"Had some people not dedicated themselves to building those countries, they would have nothing for us to envy today.''
Ms Akuffo was speaking at the 11th Chief Justice Annual mentoring programme held at the Supreme Court in Accra on the theme: ''I pledge myself to the Service of Ghana.''
The mentoring programme, which brought together 10 schools, is meant to inspire young people to take up roles in the judicial sector, instil in them a sense of duty to their nation as well as be minded of their responsibility to take up the mantle of nation building.
This year's programme gave students and some head porters the opportunity to ask questions on child marriage, corruption, appointment of judges, whether or not a hearing impaired could become a judge or lawyer.
The Chief Justice said recent events had made Western and other countries less tolerant to migrants, adding that ''we can only arrive at the conclusion that our only option is to build our country and we can only do so by pledging ourselves fully and totally to it".
She said the country currently needed diligent practitioners to protect the rights of citizens, mediate in conflicts and settle disputes.
Ms Akuffo told the students that in any profession that they found themselves, their preoccupation should be to serve the nation with integrity and wholehearted commitment to the country's growth.
"Should you choose any of the million other ways in which you can serve this country, you will need to apply the same principle of patriotism and ethical conduct."
Mr Justice Sule N. Gbadegbe, a Supreme Court Judge, who chaired the programme, took the students and head porters through activities of the Supreme Court.
He said before judgements were delivered by the apex court of the land, the Constitution acted as their guide as well as other decisions in other jurisdictions.
Justice Gbadegbe urged the students to think of what they could do for Ghana and not what Ghana could do for them.
Mrs Afua Ghartey, president of the Greater Accra Regional Bar Association, appealed to the students to rekindle their love for God and country.
Mrs Ghartey noted that a look at most countries National Pledges, the contents inculcated in the youth good values and Ghana was not isolated in that regard.
She admonished the students to accept the training offered to them by their teachers since those values would go a long way to shape their future.
Ms Josephine Nkrumah, Chairperson of National Commission on Civic Education (NCCE), advised them against being materialistic.
Ms Nkrumah said serving Ghana required them to move out of their comfort zone.
Source: GNA
Latest posts by Classic Ghana
(see all)