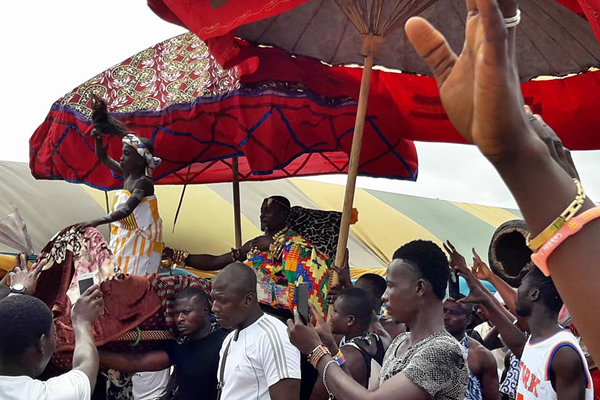 The Essikado traditional Area on Tuesday launched the 6th edition of Kuntum festival of the chiefs and people of Ahanta and Nzema lands.
Nana Kwesi Agyeman IX,   Omanhene of Lower Dixcove, said this year's Kuntum festival looked forward to the active participation of the various traditional councils,  Chiefs and religious groups in Essikado.
The festival which would be celebrated on the theme "Culture :The Powerhouse  for community development", would begin on July 1st  with the imposition of a ban on drumming and noise making.
Other activities lined up for the celebration include,  Kuntum Public Lecture, Choral festival, Quiz competition,  Football and Brass Band Music competition,   Indoor games and Weight lifting, Food bazaar, Medical screening, Thanksgiving service and Candlelight procession .
The festival would be climaxed by a grand durbar of Chiefs on August 4, 2018.
Nana Agyeman IX  explained that Kuntum was the only festival which explicitly exhibited  the unique culture of the Ahantas  and Nzemas and asked that all  should fully participate.
He said Kuntum was a festival which has over the years fostered unity, love  oneness and togetherness among them.
The Dixcove Paramount Chief  pointed out that festivals like Kuntum had gone along way to enhance  development in the areas that it was being celebrated and stressed that  Chiefs were now very committed to use  festivals to ensure development in their areas and not only wait for royalties  from  companies.
Nana Agyeman IX urged the people to disabuse their minds that the Kuntum festival was satanic but rather actively participate in it since there were a lot to learn from it.
The Deputy Western Regional Minister Mrs Eugenia Gifty Kusi, tasked the people of Ahanta and Nzema lands to use the celebration of Kuntum festival to foster unity and togetherness among themselves.
She asked that they fully participate in all the activities lined up for the celebration especially the communal labour and clean up exercises.
Mrs Kusi said the government would continue to respect the chieftaincy institution and would give it the needed recognition, respect and attention.
Reverend Stephen Ebo Kessie, Acting Director,  Centre for National culture ( CNC) underscored the important role culture play in the development of an area, adding "culture is an effective tool for development, so we should carefully handle it".
"There cannot be any development in a community and the nation at large without leaning on our culture, we as Ghanaians and for that matter Ahantas have very good and rich culture which needs to be exploited for the development of our various communities ".
He however acknowledged that some cultural practices and values may be outmoded in present day, but that the argument should not be an excuse to either spurn or throw away the relevant ones such as language, music and dance as well as arts and literature.
The Kuntum festival came about when a hunter on one of his usual expeditions saw some dwarfs in a forest at Ahanta Aboadze in the western region performing a dance which the hunter after observing copied the movements in the dance and later taught  his community members .
The festival which is mainly celebrated by the Ahantas and Nzemas and some parts of Ivory Coast is to engender communal spirit, promote oneness and togetherness as well as settle long standing family and community disputes.
Source: GNA
Latest posts by Classic Ghana
(see all)