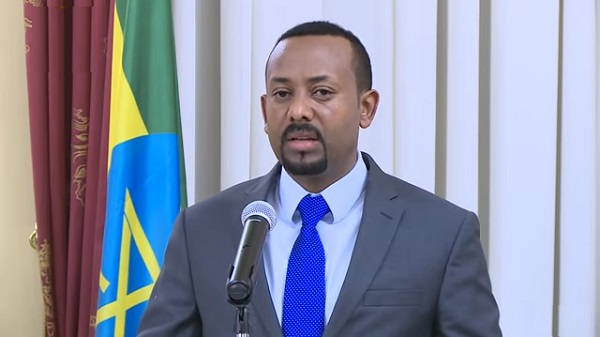 Ethiopia's attorney general on Monday made several damning revelations including the role played by security forces in planning an attempted assassination on prime minister Abiy Ahmed.
Abiy, who became premier in April and has since implemented a reformist agenda, survived a grenade attack at rally in the capital in June.
Authorities arrested five people in September, saying they were members of the formerly exiled Oromo Liberation Front that Abiy had pardoned.
Intelligence officers wanted Oromos to kill Abiy
Attorney General Berhanu Tsegaye said evidence showed "the senior leadership of the national security agency" told members of Abiy's Oromo ethnic group to attack him at the rally.
"The evidence we gathered shows that the senior leadership of the national security agency instructed Oromos to carry out the attack because it would mean that the prime minister – an Oromo – was killed by Oromos," the attorney general told a press conference.
The assertion is jolting in an ethnically diverse country that has seen recent ethnic clashes and because Abiy is the ruling coalition's first Oromo leader.
"It would (also) give the impression that he is not endorsed by the Oromo population," Berhanu added.
Human rights abuse
The attorney general also announced that 36 security officials had been arrested on suspicion of corruption and human rights abuses.
Berhanu said several suspects had fled Ethiopia or were in hiding and investigations over the past five months had uncovered serious abuses by security services.
Mismanagement and corruption
Berhanu added that 27 employees from the military-run conglomerate METEC and police officers were arrested in a five-month-long corruption investigation, taking the total number arrested to 63.
He said investigations uncovered issues with procurement procedures at METEC.
"For six years METEC made international procurements totalling $2 billion without any bidding processes," Berhanu said, without naming the international firms involved.
He said the investigation had examined METEC's contract for the Grand Renaissance Dam, the centrepiece of Ethiopia's bid to become Africa's biggest power exporter.
In August, the government cancelled the contract, citing delays in completing the project.
Justice is served?
Following months of investigations, dozens of Ethiopian security officials appeared in court on Monday to face trial for ordering the attack on the prime minister.
Several hours later, 36 officials from branches of the security forces including NISS and the federal and Addis Ababa police forces and 26 officials from METEC appeared in the Federal High Court in the capital.
The court session ran until 9 p.m., a rarity in Ethiopia, and a judge denied the suspects bail and gave police 14 days further to investigate. None were charged.
Among those in court was METEC deputy director general Tena Kurunde and the wife of former deputy head of NISS Yared Zerihun, witnesses said. Yared was moved from that role to head the federal police in April but resigned three months later.
Ethiopia's security services have for decades wielded power as has METEC, a key player in an economy dominated by the state and the military.
Reuters could not immediately contact the National Intelligence and Security Service (NISS), or the industrial conglomerate named by the attorney general – Metals and Engineering Corporation (METEC).
Abiy takes on 'the establishment'
Abiy's reforms have challenged the security services and upended policies and hierarchies that have been in place since his ruling EPRDF coalition came to power in 1991.
He has pledged to open state-held sectors to investors and acknowledged police brutality he likened to state terrorism. He has also made peace with neighbouring Eritrea and announced pardons for previously outlawed Oromo rebels and other groups.
Until recently, Ethiopia's government was dominated by members of the Tigrayan minority. Ethiopia has seen economic growth near 10 percent over the past decade but rights groups say the government has cracked down on dissent.
Abiy became the EPRDF's first Oromo leader after anti-government protests helped force his predecessor to step down.
Source: Africa News
Latest posts by Classic Ghana
(see all)