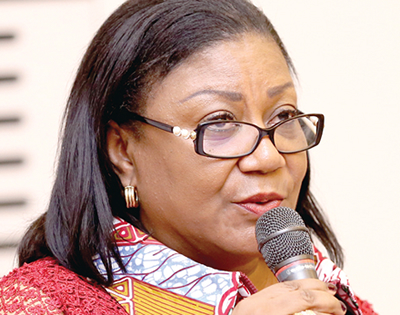 First Lady, Mrs. Rebecca Akufo-Addo has interacted with some market women and street vendors in the Greater Accra Region, urging them to continue to work hard to take care of their children.
While commending the women for their massive support for their families, especially the children, she also encouraged them to stand firm and "keep their families going", as the government endeavour to make the country better for all.
The interaction with the market women formed part of activities being held by the Office of the First Lady and the Rebecca Foundation to mark the 2019 International Women's Day, which falls on March 8, every year.
Their discussions focused on peculiar challenges the women were facing in their trading and on how the First Lady could assist and facilitate their business operations and survival.
The traders including pure water sellers, plantain chips hawkers, meat pie sellers, among others, also benefitted from small tools, equipment and small grants to boost their businesses and incomes.
It was an emotional sight as the over 100 women, selected from 20 markets and major street vending points when presented with various forms of support and setup capital, shed tears, and expressed profound gratitude to the First Lady, for such a great gesture.
The market women were drawn from the Okaishie, Kaneshie, Osu, Katamato, Maamobi, Tema, Mallam Atta, Makola, Agbogblosie, La, Krowor, Lapaz, Teshie, Adabraka markkets, among others.
Mrs Akufo-Addo used the occasion to acknowledge the important role Ghanaian market women and small scale businesses played in national development.
She called on the women to continue playing their diverse roles in the economy, saying, the economy would be better soon.
She said the well-being of women and children were her major concern so she would strive to do anything that would help improve their lots.
Mrs Akufo-Addo said work was currently on-going at the Paediatric Intensive Care Unit of the Korle Bu Teaching Hospital, saying, when this was done, it would help treat some of the avoidable deaths that the hospital was currently recording among neonatal.
The representatives from the various markets commended the first lady for her show of concern for them, and appealed to her to facilitate loans from MASLOC to enable them, expand their businesses.
Most of the women from the Krowor Market, Santana Market and the Tema market called on her to help renovate and expand their markets.
The street vendors from Kasoa, Circle, Opkonglo among others were all full of praise for the First Lady's intervention, saying, it would go a long way to boost their businesses.
Madam Afia Yeboa, a plantain chips seller who hawks at the Airport Traffic light, after receiving a gas burner and an undisclosed amount of money, said she had been selling plantain chips for over a decade but she always has to credit them from the owner.
She said now that she had received her own burner and capital, she was going to fry her own plantain chips for others to credit from her.
Ms Mary Amisah, a pastries seller at Kasoa who received a deep freezer said she would send it to her hometown at Anomabo to sell iced water and iced block to cater for her five children.
Madam Ama Fosuah, an apple and grapes seller at Kasoa who received an undisclosed seed capital was appreciative of the First Lady's gesture, saying, she would now buy the apples and grapes with her own capital to sell.
Meanwhile, the women and street vendors were educated on kidney disease, hypertension and diabetes and the need to visit the hospitals for regular check-ups.
Dr. Emily Martha Naa Shormey Nortey, said kidney disease was on the increase in the country because most people were not taking good care of their kidneys resulting in a lot of illnesses.
Ms Mariam Mensah, a lawyer and social welfare officer with the Accra Metropolitan Assembly, who spoke on child labour, urged the women to ensure that they sent their children to school.
She advised them to ensure that their children engaged in chores that were not dangerous to their health and education.
Ms Mensah also called on them to take proper care of their children to help alleviate streetism among children.
The First Lady is also scheduled to meet with medium to big business owners to discuss how female business leaders can help other women to succeed in business.
She will also hold an awards ceremony to honour women and advocate policy changes that would take into account gender mainstreaming in policies affecting private enterprise development.
Source: GNA
Latest posts by Classic Ghana
(see all)