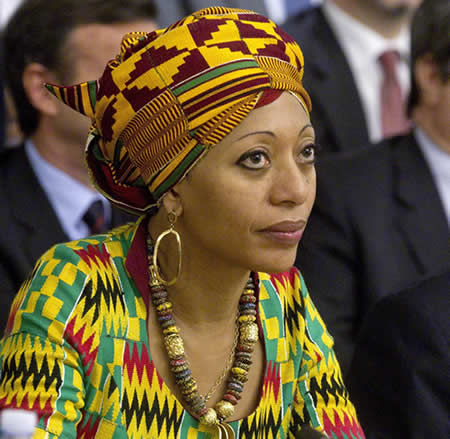 Samia Yaba Nkrumah, a Ghanaian political figure, has held discussions with Deputy Russian Foreign Minister Mikhail Bogdanove on how to strengthen peace and security in Africa.
The pair also talked about deepening the friendship and economic cooperation between Ghana and Russia.
This was on the sidelines of the Rhodes Dialogue of Civilizations Forum, which brought together politicians, former leaders, researchers and captains of industry from across the world.
Samia, according to a press release obtained by the Ghana News Agency (GNA) in Moscow, participated in three panel discussions: "Economic inequality and democracy: are they compatible?", "Human in the third Industrial Revolution: to thrive or to survive?" and "Engaging Africa in dialogue: towards a harmonious development of the continent."
The third plenary session aimed at identifying specifically African countries' priorities, issues holding them back and whether competition between the West and Asia could benefit Africa or a more collaborative effort was needed.
The speakers agreed that "the international community works with African countries as they face the challenges of security and development. And today, Africa appears as the chessboard of multi-faceted power struggles, including not only Western countries, but also Asian powers".
Samia participated in her capacity as the President of the Kwame Nkrumah Pan-Africa Centre (KNAC).
She is one of the founders of the charity group, "Africa Must Unite", which has been promoting her late father's vision of a peaceful Africa.
She was the first woman Chairperson of the Convention People's Party (CPP), – a major political party in Ghana.
In January 2016, she contested alongside three other candidates to be the CPP's flag bearer and presidential candidate for the 2016 general elections but lost out, coming second to Ivor Greenstreet.
She has been very active promoting women's rights in politics.
The Dialogue of Civilizations Forum, with a strong African presence, led by former Nigerian president, Goodluck Jonathan, and headlining a diverse array of high-profile international speakers to discuss and seek practical solutions to major global challenges being faced today, was held from October 5-6, in Rhodes, Greece.
Source: GNA
Latest posts by Classic Ghana
(see all)