Her parents' inability to support her further her education to a higher level did not deter her from exploring other profitable ventures.
Rather, Janet Abobigu, whose parents had settled in Ahinsan, Kumasi, from the Upper East Region in search of greener pastures, decided to work as a head porter (kaya yoo) just to save some money to further her education.
Her plan, however, did not materialise as she soon realised the demands of the job were too stressful for her age. Also, some market women took advantage of the situation and paid peanuts for the services.
Aside from the pittance she earned from the trade which made it impossible for her to save, her health was also at stake as the weight of goods she had to carry on a daily basis to long distances was simply unbearable.
After one of her many unforgettable experiences as a 'kaya', she decided to stop and rather sell roast groundnut around the then Kumasi Brewery.
"That fateful day, I wept bitterly because this woman initially told me I had to carry very heavy sacks of onion to Borla ho a popular place in Kumasi, we got there only for her to say she had earlier informed me we were heading to Kejetia which is very far. I had already charged her and she was not ready to add even a pesewa to the agreed price," she narrated.
Mrs Abobigu recounts that she made about 100 per cent profit from the sale of groundnut and was advised by one of her teachers, who she is most grateful, to use proceeds from her trade to learn a vocation.
She explained that contrary to popular perception that learning vocational skills should be the reserve of unintelligent people, a person who decides to learn a skill should be smart, creative and hardworking.
Using herself as an example, she said she was able to learn how to sew beautiful clothes within a short period because she was a fast learner.
"When I was in school, I was one of the best students in my class so I guess that easily reflected in my apprenticeship. The usual duration for apprenticeship was three years but within one and a half year, I had learnt almost everything and started working by myself," she said.
From veranda to large-scale factory
After completing her apprenticeship, Mrs Abobigu starting sewing for people on commercial basis from her parents' rented room but later had to move to the porch as the fabrics continued to increase by day.
She continued working from her porch till she was able to save and rent a kiosk for her business.
Later she got married to Mr Thomas Abobigu and had to relocate to SSNIT Flats at Asuyeboah, also a suburb of Kumasi.
Soon, she started saving proceeds from her services and supported other girls in apprenticeship training at her shop.
Today, the business which started as a one woman business on a veranda has grown into a Unijay Fashion, a large-scale manufacturer in the garment/sewing industry in Ghana with a workforce of over 200 permanent employees and over 400 other contract workers.
They specialise in sewing unisex clothes for all occasions, customised uniforms for companies and school uniforms for government senior high schools in Ghana.
Perseverance
Mrs Abobigu attributes her success in the fashion industry to years of hard work, dedication and perseverance.
Her turnaround, she noted, was in 2003 when she was selected as part of exhibitors for a show in London organised by the Ministry of Foreign Affairs.
"Honestly, our locally made dresses were hugely patronised by both Ghanaians and other nationals. As soon as I got back to Ghana, I decided to use proceeds from that exhibition to set up the factory which is located in Ahinsan."
Fortunately for her, her company has been selected by the current government as one of the factories in the Ashanti Region for its flagship project  – One District – One Factory.
She was also full of praise for her husband, a banker who had to resign to support in the administration and day-to-day running of the business.
"My husband realised that for the business to grow, I needed support in the form of administration as I had now trained over 100 young girls with the numbers increasing by day. He took charge of writing proposals to companies, salary structure, human resource management and this helped us grow quicker within a short period of time," she narrated.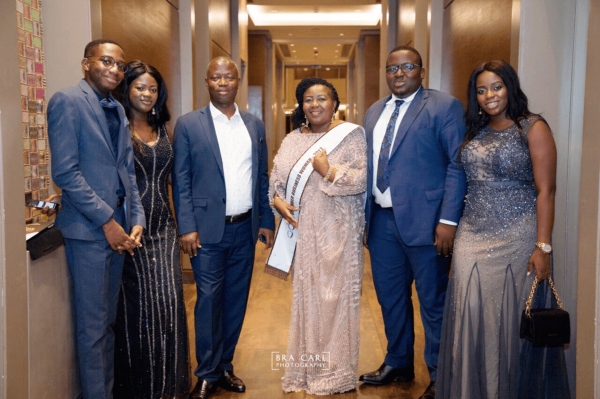 Humanitarian projects and awards
Although Mrs Abobigu has done several humanitarian projects especially in the education sector, her passion is on training head porters so they earn a decent living from sewing as she understands their plight.
"Anytime I meet a head porter, I try to have a chat in order to establish rapport. I introduce my project to them and when they show interest, I send them to the factory to start developing their skills."
From the year 2000 till date, she has trained over, 5,000 of them who today work independently or at the factory. Some of these girls, she noted, were now able to fund their education from the salaries she paid them.
"When I receive contracts, I share among the people I have trained in the past and even to other women who can sew to meet our specification. I know that women are the glue that holds the family together and so if they are empowered, they would be able to better cater for their families."
"There is absolutely nothing wrong with a woman dressing up and looking gorgeous. However, we must not limit ourselves to fancy dressing. We must work hard to support our families. A lazy woman I believe is a poisonous woman because her negativity would eventually rub on the whole family," she explained.
A key project she is currently working is the 'back to basic' project which aims at giving back to the basic schools that serve as the foundation of education.
Her contribution to the society has also been recognised and rewarded by different organisations both in Ghana and abroad.
In 2006, she was honoured as a role model at the National Basic Schools Excellence Awards.  Last year, 'We Care For Humanity' also presented to her the Women Empowerment Icon Award in the United States of America (USA).
Also, at the just ended Chamber of Commerce Business Awards, she received three awards, namely Fashion Company of the Year for Ashanti Region, overall Fashion Company of the Year and the Chamber Business of the Year.
She expressed gratitude to her workers who have supported her all these years and also to her family for always putting the business first.
Source: Graphic online
Latest posts by Classic Ghana
(see all)