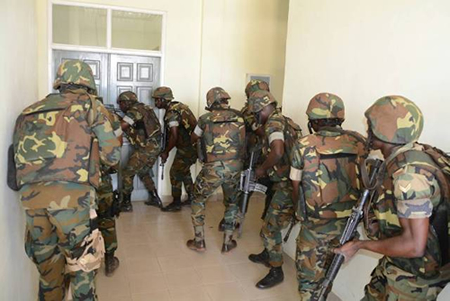 The Ghana Armed Forces (GAF), has assured the public that the launch of 'Exercise Eagle Eye' was to demonstrate its readiness to counter terrorist threats on the state in the event of any such occurrence.
Commanding Officer of the 64 Infantry Regiment, Lieutenant Colonel Fiifi Deegbe, gave the assurance at the end of a successful counter terrorism simulation exercise held at the National Theatre in Accra, this dawn.
He said 'Exercise Eagle Eye,' is a periodic exercise to test the operational readiness of the Unit in neutralising possible terrorist threats on state institutions in particular and the country as a whole.
"I would want to give an assurance from the entire Ghana Armed Forces that with the continuous training that we always go through, with the systems available to us, with the logistics available to us, the country at large can go to rest, the business community can go on with their business and all activities. And we can effectively neutralise any form of attack should it happen in Ghana," Lt Col Deegbe assured.
"We should all be rest assured that we are always available to address any security challenge should it happen. For any challenge the (victims) should call on the Police and once they cannot handle it or it is beyond them we will be called in to support them," he said.
The 64 Infantry Regiment has been designated as the Counter Terrorism Unit of the GAF, an initiative of the Chief of Defence Staff (CDS), the Chief of Army Staff (COAS) and the General Officer Commanding the Southern Command, GOC General Oppong Pepprah.
The 64 Infantry Regiment has launched 'Exercise Eagle Eye' to enable the troops to appreciate targets, improve troop endurance, physical fitness, stamina and military skills in line with the Unit's role.
Lt. Col. Deegbe said, the Exercise was very significant for the Unit primarily because of the recent spate of terrorist attacks on neighbouring countries, which served as a call to alertness.
"In recent times, countries in the West Africa Sub-region have been attacked, they have all suffered terrorist attacks and to this effect, it is prudent that we start putting in measures, preparing ourselves to counter any such attacks in Ghana," he stated.
He said the Exercises had helped improve their tactics as well as the weapon systems.
He said some members of the Unit have gone outside the country to be specially trained, adding that, they have also held joint training programmes with the Ghana Police Service as well.
Lt Col Deegbe noted that, in their bid to perfect the Unit, their next exercise will be to target some high buildings in the City, where the "troops would be rappelling from helicopters to assault downhill".
Source: GNA
Latest posts by Classic Ghana
(see all)