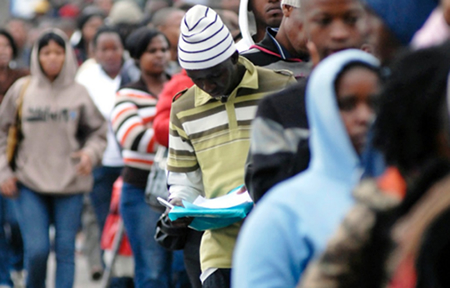 Government has been urged to get the concept of unemployment right before formulating policies to tackle the issue.
Professor William Baah-Boateng, an Economist and Associate Professor at the University of Ghana, who gave the advice, said if government does not get the concept and figures right, such policies would always fail.
Prof Baah-Boateng was speaking on the theme: "Sustainable Development Goals and Decent Work, the Role of Social Partners", at symposium organized by the Tema District Council of Labour (TDCL) towards the celebration of this year's May Day.
"We need to get it right. If we don't get the definition and figures right, we will get policies that will always fail," he emphasized.
He said for instance between 2002 and 2004, government introduced the policy of Skill Training and Employment Replacement Programme which failed.
He explained that because the concept of unemployment was not clear, when it was announced that people should go and register under the programme, about one million out of the country's 19 million then, went to register as unemployed people even though some of them where in some form of employment.
Prof Baah-Boateng reminded government and the public that unemployment as defined by the International Labour Organization (ILO) had to do with people aged 15 and above who do not have a job, available and making an effort to get one.
He stated that by this definition, people who were not working but not actively looking for a job were not unemployed adding that those who were in a job they did not like, also did not qualify as unemployed persons.
He said even though he was not downplaying the existence of graduate unemployment, he wondered if the numbers were correct.
The Economist also asked government to carefully consider and understand the figures of unemployment before implementing any policies, stating that the failure to do so would lead to the neglect of unemployed people who had lower educational achievement while the concentration would only be on the high academic achievers.
On the creation of more jobs, he said the rate at which the economy grew, determined how a country would be able to create the needed job.
"If the economy is not growing, jobs will not be created, at least seven per cent economic growth is needed, if we are growing about seven per cent, and every one per cent creates 0.2 per cent, then 1.4 per cent job creation will be achieved if growing by seven per cent," he said.
Prof Baah-Boateng said if the current growth of Ghana's economy was sustained, more jobs could be created through the private sector.
He also called for the formalization of jobs both in the public and private sectors noting that job formalization was not only about business registration and paying of tax.
He called artisans and other private sector managers and workers to religiously adhere to record keeping and other measures that would ensure effective discharge of their services.
The Economist bemoaned that employers were taking advantage of the loopholes in the Labour laws by engaging the services of people for five months" lay them off and engage them again to avoid employing them permanently after six months of working, according to law."
Source: GNA
Latest posts by Classic Ghana
(see all)