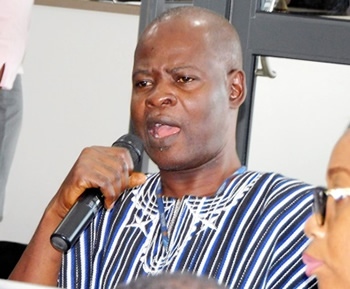 Dr Steve Manteaw, Chairman of the Public Interest and Accountability Committee, over the weekend said compared to other African countries, Ghana is more capable of funding the free senior high school programme.
He said for instance when Uganda started a similar programme in 2007, its GDP was 12 billion dollars with a population of 29.9million people but that Ghana in 2017 had a GDP of 37.5 billion dollars with a population of 27.4 million indicating that Ghana was better placed to implement the free SHS programme on a more sustainable basis.
He said there is, however, a need for a cut off point for admission into the programme, then there is also the need to leverage on existing private and state facilities through decongestion of dormitories and stop converting classrooms into dormitories just to allow every students to stay in boarding house.
Dr Manteaw was speaking at a dialogue on education policy in Ghana under the theme: "Sustainable Partnership for Educational Fiancing: Leveraging National Resource Revenue for a better Educational Infrastructure in Ghana".
He said the government must look at harmonizing both public sources of funding together with funds from scholarship programmes by the GNPC, Tullow and its partners and the GETFUND for a coordinated and well-managed sources of funds which could guarantee sustainability.
Conversely, the introduction of double track system, the Policy Analyst said, must be carefully thought through with broader consultation, every programme starts with a pilot test, hence the need to proceed with caution".
He said the Ghana Education Service could on the other hand, take audit of abandoned projects and fix them for use by students rather than concurrently adopting the double track system.
Parents on the other hand must also be made to bear some responsibility in identifiable areas as key stakeholders in education delivery.
Dr Manteaw said, "Our oil, mineral resources must be seen to be benefiting Ghanaians in a more productive way and that financing education to develop the human resources base of the country for economic advancement was a good decision but the modalities for the implementation of the free SHS must be relooked to derive maximum benefits".
"We have to critically consider every decision in order not to compromise quality in the implementation of the programme".
Mr John Dadzie, Representative from the Conference of heads of Assisted Private Senior High Schools, said private schools must be given a quota in the intake system.
He said the cut–off point was critical to maintain quality standards whiles average students were transferred to the private schools for proper grooming, fine tuning in getting the best out of them for the development of the country.
Mr Dadzie said, "We have rooms and are capable of grooming these children… we don't need the double track system as a country".
Ms Joyce Cudjoe, Representative from the Ghana National Education Campaign Coalition said the coalition was not consulted on the double track system and called on the government to backtrack, re-engage all stakeholders for effective education delivery at the second cycle level.
During the open forum, some participants said the double track was indeed not the solution since it could not absorb all 600 schools but only 400.
They argued that there must be a cut-off point for free entry into public schools to allow the private schools to absorb the rest after the cut-off point which would help to grow educational entrepreneurs and as a means of job creation.
Others called for specialized fields of study as against the many subject given to students.
Source: GNA
Latest posts by Classic Ghana
(see all)