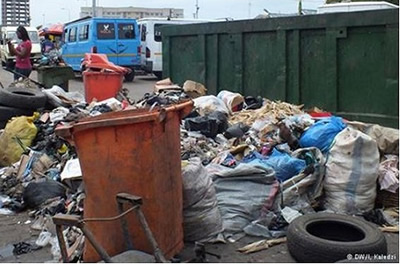 Lack of strong political leadership and weak law enforcement have been identified as the main obstacles hindering the country's quest to solve the sanitation problem.
At a public lecture on sanitation organised by Medialink in Accra on Wednesday, the panellist and audience also cited the complex nature of sanitation institutional management and called on government to crack the whip to address the challenges.
The forum unanimously agreed that the president should make sanitation a priority when evaluating the various local metropolitan, municipal and district chief executives.
Speaking on the topic "Unlocking Ghana's Sanitation Puzzle: Form Policy to Implementation," Professor Chris Gordon, Director of the Institute for Environment and Sanitation Studies at the University of Ghana, Legon, called for a holistic approach in order to prevent the effects of sanitation.
He said, without state support to deal with sanitation challenges forcefully, the President Akufo-Addo administration's vision to make Ghana's capital, Accra, the cleanest city in Africa by the end of his first term would not be achieved.
Prof. Gordon said no one was insulated from sanitation threats adding that there was the need to coil the impunity, immorality, pride, envy, and greed.
He called on stakeholders to build synergies, find novel ways of adding value to the waste generated and educate the public especially the youth to change their perception that shit business was a serious business.
Mr. Sagane Thiaw, Operations Director, World Vision International, reiterated that Water, Sanitation and Hygiene had always been our ministry's core priority.
He said the organisation's campaign had been able to deliver 207 Open Defecation Free (ODF) communities, provided 63 gender and disability friendly institutional latrines with changing rooms for menstrual hygiene management and capacity building for 85 latrine artisans.
Working together with stakeholders he said, 25 Municipal and District Assemblies officers had received training in their respective capacities built especially in the implementation of the Community-Led Total Sanitation (CLTS) approach.
Mr Thiaw urged government to pay more attention to issues of sanitation in order to save children and the good people of this country from avoidable ailments and deaths, poverty and the shame associated with being one of the poorest countries in terms of basic sanitation.
"It is unacceptable that only 15 per cent of the Ghanaian population has access to improved sanitation, 19 per cent practicing Open Defecation, 59 per cent sharing latrines, while over 58 per cent of solid waste is either crudely or indiscriminately disposed of and 2 per cent of all waste generated in Ghana is effectively recycled.
He said the statistics had negative consequences for the health and wellbeing of our society and requires urgent attention.
"World Vision has decided to further prioritise sanitation by giving it a lot more attention, allocating increased resources, building adequate capacity and establishing strategic partnerships with governments and it allied agencies as well as none state actors to deliver improved sanitation and hygiene services".
Source: GNA
Latest posts by Classic Ghana
(see all)