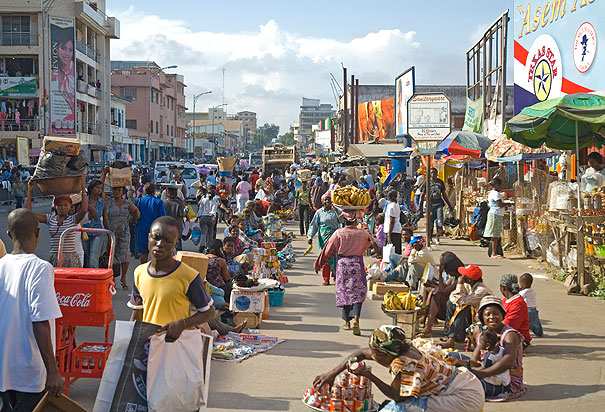 Ghana's government is under pressure to ban all imports from Nigeria as a sign of disapproval to the ongoing closure of Nigeria's borders with neighbouring West African countries.
Nigeria, Africa's top oil producer has for months now closed its borders to stop what it claims was the smuggling of rice, weapons and sub-standard goods into the country.
But the closure is having devastating effects on other ECOWAS member states like Ghana.
Ghana's Union Traders Association (GUTA) is now requesting that Ghana's government also closes its eastern corridor to all imported goods from Nigeria.
Dr. Joseph Obeng who is president of the association feared products not allowed in Nigeria could find their way into Ghana thus affecting local businesses.
"By now we should have closed the Eastern Corridor to all imported goods so that the goods being smuggled won't come and hurt our economy. This is not retaliation, it is prudence" he asserts.
Dr. Obeng has also criticized the seeming silence of the ECOWAS commission on the matter which he says makes mockery of the economic community's protocol on free movement of goods, services and people and the trade liberalization scheme which seeks to ensure that goods produced in the sub region can be circulated freely without the payment of customs duties and taxes.
Nigeria's defence
But Author of "Making an ECOWAS of the people a reality" Morgan ASSOGBA METONDJI has noted that Nigeria has not flouted any specific ECOWAS Protocol by closing its borders.
He told Starr FM's international affairs program World Today Extra that "when you look at the ECOWAS treaty and the kind of product that are concerned when it comes to free movement of goods, Nigeria is concerned with products like rice that are massively exported through Benin.
Those products are wholly made outside the ECOWAS zone meaning that ECOWAS cannot accuse Nigeria of not respecting the treaty."
The international relations analyst however believes that the spirit behind the treaty which is to encourage good neighbourliness and establish a common market, may have been breached by Nigeria
So far, Nigeria has not indicated for how long the borders will remain closed, maintaining it is acting in the interest a of the country's security and economy.
Spokesperson for the customs service in Nigeria, Joseph Attah said the borders would remain shut until border countries like Benin and Niger, pledged to adhere to the ECOWAS protocol on transit and goods which dictates that goods on transit are transported to the destination countries with seals unbroken after which receiving countries examine contents of package.
Attah, singles out the Republic of Benin as the chief culprit, flouting the law with Nigeria's customs discovering broken seals and smuggled items in packages meant for the country.
He adds that farmers in Nigeria were enjoying the gains from the border closure.
"Patronage of local product, rice and food items have gone up and already farmers are asking if we are going to stop this anytime soon because they are investing their money, they're investing in their farms, employing more hand and that is stimulating great local productivity in the country," he said.
He wants countries like Ghana to rather support Nigeria's actions to safeguard the national interest of Nigeria.
The journey towards greater intra Africa Trade
Nigeria's decision to close its borders has cast a shadow over a historic free-trade agreement which seeks increase trade between African countries.
The country's President Mahamadu Buhari signed onto the Africa Continental free trade agreement in July 2019, during the African Union (AU) summit in Niger.
A year prior to signing the deal however, Africa's largest economy had expressed reservations about the impact such an agreement could have on competition and employment for locals and their businesses.
The delay raised questions about whether the continental agreement could become a reality.
Though currently, the only country yet to sign the agreement is Eritrea, Country Director, for the Africa Continental Free Trade Area Policy Network-Ghana & Diaspora, Louis Yaw Afful says the unilateral decision taken by Nigeria is not a good one as there was a lack of communication with countries like Ghana.
"As a free trade advocate, there are many ways to solve this problem," he said, adding "let's not forget that Nigeria has the largest population in Africa. I am not calling for retaliatory approach, but if we reach the free movement of people clauses within the agreement and every country moves in a similar way, nobody will visit any other country."
Country Director of CUTS International, Ghana, Appiah Kusi Adomako agrees.
"I think Nigeria is trying to become a protectionist country but it must be very careful going forward.
We know that Nigeria is trying to develop its industry and so fast-forward 10-15 years' time, Nigeria will start to export to other countries and that is the time the other countries will try to frustrate them like the way they have done."
 Source: Africafeeds
Latest posts by Classic Ghana
(see all)