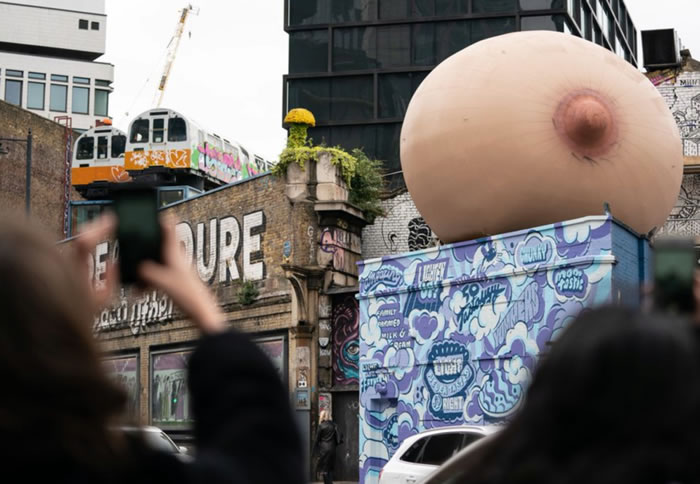 Gigantic breast-shaped balloons are appearing all over London as part of a campaign highlighting the stigma that mothers breastfeeding in public still face in the British capital.
The goal of the #FreetheFeed campaign, which first made headlines with its head-turning inflatable boobs in 2017, is to "remove the shame and sexualization around [breastfeeding]," according to the movement's founder, Ana Balarin, the executive creative director of advertising agency Mother London.
"Breastfeeding and pumping is an inherent part of having a small baby," Balarin told Yahoo Lifestyle. "It literally comes with the package."
The breast balloons, the smallest of which are ten feet tall, were designed by Mother London in a range of skin tones, and have been appearing on buildings, benches, and other public spaces across London since March 26, the day the U.K. celebrates Mother's Day. According to UNICEF, breastfeeding rates in the U.K. are among the lowest in the world. A 2019 U.K. survey of 2,000 British women found that one in three had been forced to pump their milk in a bathroom while at work. More than half of respondents said their employers showed little to no support for breastfeeding mothers.
Joining the #FreetheFeed campaign this year was Elvie, a U.K. femtech firm that has developed a silent wearable breast pump that they hope will make the pumping process easier for mothers.
"The #FreetheFeed campaign is an invitation to everyone to stand with all those women that have felt shamed or confined when breastfeeding or pumping," Elvie CEO Tania Bolder told HuffPost. "We know the giant bοοbs will raise a few eyebrows, but we want to make sure no one overlooks the way that this stigma has been used to repress women."
Source: Women in the World
Latest posts by Classic Ghana
(see all)