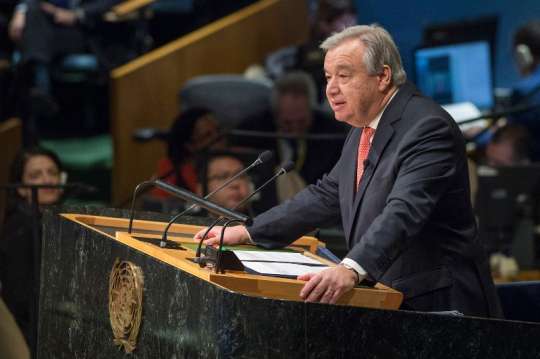 Mr Antonio Guterres, United Nations (UN) Secretary-General, has called for world leaders to forge closer collaboration for successful implementation of the Global Compact for Migration.
Migration, he noted, had become a global phenomenon, for which reason, the leaders were expected to agree a common platform to protect the rights of migrants.
He said "all human beings should have their dignity protected and upheld", and urged the world to refuse to succumb to false narratives on issues relating to migration.
Mr. Guterres was addressing the opening session of the inter-governmental conference to adopt the Compact for Safe, Orderly and Regular Migration in the Moroccan city of Marrakech.
The Compact, agreed in July, this year, under the supervision of the UN, recognizes the sovereign right of states to determine the conditions of entry and stay of non-nationals in their territory in accordance with international laws.
It encourages member states to incorporate issues relating to migration in their national development agenda, in order to promote the welfare of migrants
The Compact ushers in a new cross-sectoral approach needed to address the issue comprehensively in the wake of the evolving landscape of migration due to demographic, economic and other factors and drivers.
Between 2000 and 2017, the estimated number of international migrants increased by almost 50 per cent, reaching 258 million, in 2017.
The UN estimates that together, Asia and Europe, host six of every 10 international migrants, corresponding to 31 and 30 per cent, respectively, of persons who reside outside their country of birth.
This is followed by Northern America, 22 per cent, Africa approximately 10 per cent, Latin America, four, and the Caribbean and Oceania, two per cent.
Mr. Guterres said despite the obvious merits of the new approach to migration-related issues, much work would be required to implement a whole of government and society response to the Compact.
The Agreement was people-centred because it promoted the wellbeing not only of migrants but also of communities in countries of origin, transit and destination.
Ms. Maria Fernanda Espinosa Garces, President of the UN General Assembly, said the two-day conference was coinciding with the 70th anniversary celebration of the adoption of the UN Convention on Human Rights.
She therefore appealed to the participants to adopt the Compact to help enhance the interest of non-nationals across the various countries.
Source: GNA
Latest posts by Classic Ghana
(see all)