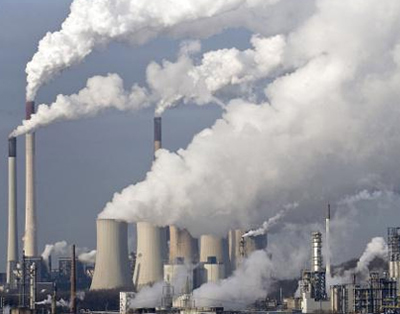 A Social Entrepreneur, Mr Muntaka Chasant, has appealed to the Government to consider making air pollution, especially in urban areas of Ghana, a public health challenge rather than merely an environmental nuisance.
He said air pollution remained an increasing risk for stroke, heart diseases, lung cancer and respiratory tract infections including asthma, and called for concerted efforts to bring the situation under control.
He cited reports from the World Health Organisation, which states that air pollution kills about 28,000 people annually in the country.
Mr Chasant, in an interview with the Ghana News Agency at the weekend, explained that situating the country's poor urban air quality within a public health context, one could realise the pressing need for action on air pollution, both in terms of public awareness and education.
As part of efforts to keep the environment clean and safe, the Air Mask and Textiles Company Limited (ATCL), an anti-pollution face mask company, has undertaken air pollution advocacy and donated ATC masks to schools, business entities, and fishing communities in Jamestown and Agbogbloshie and their environs in Accra.
Mr Chassant, the Chief Executive Officer of ATCL, said the Company had also planned to extend the campaign to other parts of the country.
"This campaign has provided us with a degree of understanding and appreciation of local perception of urban air pollution risks. We have observed that there is low level awareness and knowledge of air pollution, its health effects and how to control it, especially in Accra," he said.
"Our campaign is to create awareness and increase knowledge of the health effects and sources of air pollution, how to minimise exposure, and how the people can become active participants in the fight against air pollution. We distributed face masks to vulnerable groups for free, to minimise their exposure to air pollutants."
Mr Chasant expressed worry that communities that engage in burning of biomass scrap tires for meat singeing and electronic waste for copper harvesting seem to be the most polluted hotspots, yet, there is very little education on air pollution in those areas.
"For instance, in engaging the leadership of Jamestown slaughterhouse, where they regularly use scrap tires to singe animals, the slaughterers explained to us that using scrap tires to roast animals is much cheaper and that their ancestors, since the time of Mansa Musa, have emitted smoke for this purpose. You can see the low level of knowledge of air pollution and its adverse health effects among the people here," Mr Chasant said.
When asked how he and his team of advocators intended to intensify the air pollution awareness campaign to other parts of the country, Mr Chasant said: "Our operations are small-scale and concentrates in vulnerable communities of Accra, such as Jamestown and Agbogbloshie, for now."
"What matters most to us is how to ensure that our efforts bring change in the attitudes of members of the communities we visit. Nothing precludes private participation in community development."
He called on individuals and organisations to join the fight against air pollution, stressing that the campaign would be extended to other parts of the country.
Mr Chasant urged the Environmental Protection Agency to, as a matter of urgency, publish data on air quality monitoring stations to serve as a guide for policy makers and stakeholders to deal with the menace.
Source: GNA
Latest posts by Classic Ghana
(see all)