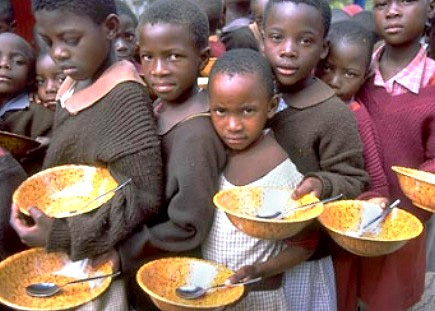 For most people the world over, there is food available all year round. The same cannot be said of millions living elsewhere in the world.
The United Nations under the auspices of the Food and Agriculture organization, FAO, has thus slated every October 16 annually as 'World Food Day.'
Quite contrary to its name, it necessarily is not a day to share food but to raise global awareness on the food situation especially as concerns those with little or nothing to eat.
There is usually a global celebration at the FAO headquarters in Rome, Italy, but countries across the world also hold national and local level events to commemorate the day.
Hunger on the rise: Bad news for Africa
The World Health Organization, WHO, African region has today disclosed that hunger is on the rise in Africa after a prolonged decline.
"Nearly 14 million under-fives are wasted, 59 million are stunted due to undernutrition. Food security is a must!
"The African Region has the highest burden of foodborne diseases: 91 million fall sick and 137,000 die from foodborne diseases. Everyone has a right to safe food," WHO said.
WORLD FOOD DAY GLOBAL CEREMONY
FAO Goodwill Ambassadors for Nutrition, the King of Lesotho and Queen Letizia of Spain will be joined by the UN Rome-based Agency Heads and other key players in the effort to achieve Zero Hunger at the global World Food Day ceremony held at FAO Headquarters in Rome on 16 October.
FAO celebrates World Food Day each year on 16 October to commemorate the founding of the Organization in 1945. Events are organized in over 130 countries across the world, making it one of the most celebrated days of the UN calendar.
Together with the global ceremony at FAO headquarters in Rome, these events promote worldwide awareness and action for those who suffer from hunger and for the need to ensure food security and nutritious diets for all.
Source: Africa News
Latest posts by Classic Ghana
(see all)