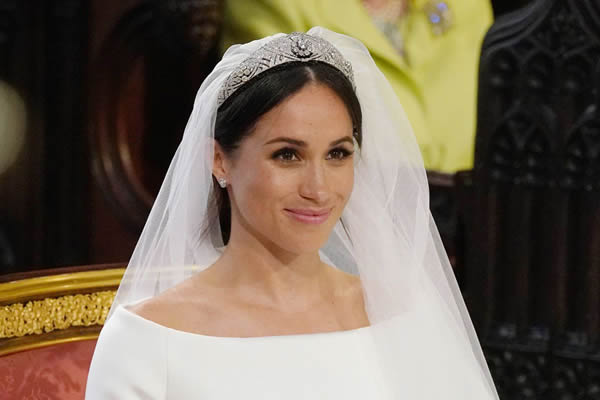 For Harry and Meghan, it was the morning after the night before. For the rest of Britain, it was a day to reflect on an electrifying wedding that's being hailed as a transformative moment for the British monarchy.
After a ceremony that shook up royal tradition, a biography of the new Duchess of Sussex has appeared on the website of the British royal family, and it firmly emphasizes her activist credentials. High on the page, in a bold font, is a quote from a speech the then Meghan Markle delivered on International Women's Day in 2015: "I am proud to be a woman and a feminist."
It is a quote that says much about the newest member of the royal family, whose decision to walk unaccompanied part-way down the aisle of St. George's Chapel at Windsor Castle set the tone for an unconventional royal wedding.
The newly married Duke and Duchess of Sussex, Meghan Markle and Prince Harry, leave Windsor Castle for an evening reception.
The last public glimpse of the Duke and Duchess of Sussex was on Saturday evening when they swept out of Windsor Castle in a vintage Jaguar convertible and drove south to Frogmore House, where Harry's father, Prince Charles, hosted an evening reception for 200 of the couple's friends and family.
Fireworks lit up the sky as guests, including the tennis star Serena Williams and the Bollywood actress Priyanka Chopra, celebrated alongside members of the Royal Family.
For the evening reception, Meghan changed into a bespoke, lily-white Stella McCartney high-necked dress. She wore an emerald-cut aquamarine ring that once belonged to Harry's mother, the late Diana, Princess of Wales. Harry switched into black tie after wearing military dress for the ceremony.
The Duke and Duchess of Sussex leave Windsor Castle in an E-Type Jaguar. The registration plate bore the date of their wedding day.
All 600 guests were invited to an afternoon reception, hosted by the Queen at Windsor Castle's St. George's Hall. They heard Elton John — who was a friend of the late Princess Diana and played at her funeral — perform three songs, while Harry's best man, Prince William, acted as compere.
Rather than a conventional sit-down meal, guests were served canapes featuring langoustines and asparagus and "bowl food" that can be eaten standing up. A famously non-traditional, lemon-and-elderflower sponge cake chosen by Harry and Meghan was cut and served.
Then, Harry drove Meghan from Windsor Castle to Frogmore House in a Jaguar E-Type Concept Zero — a vintage E-Type, originally built in 1968, converted to run on electric power. It bore the number plate E19 05 18 — the date of the wedding.
Latest posts by Classic Ghana
(see all)