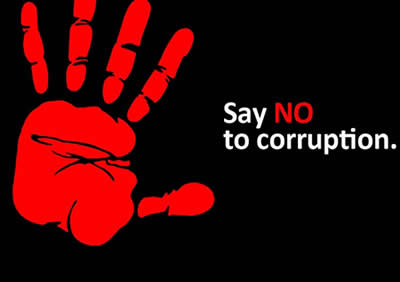 Mr Enoch Odame, Chairman of the Central Regional Inter-Party Dialogue Committee, has emphasised that an independent and neutral security service is vital in the fight to uproot corruption from the society.
According to him, security agencies have a role to play in the fight against corruption and thus, their ability to remain neutral and ensure that clear institutional standards and laws were enforced without fear or favour must not be compromised.
"Security services must be free to ensure that wrongdoers irrespective of their political affiliations face the appropriate legal penalties," he stated.
Mr Odame said this when he addressed personnel of the various security agencies in the Central Region as part of the National Commission for Civic Education's (NCCE) Anti-corruption Campaign and Constitutional Week Celebration in Cape Coast on Tuesday.
He was speaking on the theme "The role of the security services in promoting transparency, public accountability and the rule of law in Ghana".
The celebration, which was on the theme "Our Nation, Our Heritage: Consolidating Ghana's Democratic Gains" is under "the National Anti-Corruption Action Plan (NACAP) Accountability , Rule of Law and Anti- Corruption Programme (ARAP)" being organised by the NCCE.
The programme which is being sponsored by the European Union (EU) brought together security agencies including; the Ghana Police Service, the Immigration Service, Ghana Fire Service and the Ghana Prisons Service.
Mr Odame also called on the security agencies to work together, share information and communicate adequately with other state institutions such as the NCCE to enhance the principles of accountability, transparency and the rule of law.
"Transparency rest on partnership and therefore our security services must make information available and there must be people and groups with reasons and opportunities to put the information to use," he said.
He stated that though Ghana's democratic credential was envied in the Sub-Region, such feat must be consolidated against reverse wave, adding that the country could not relinquish its efforts in promoting equity, national integration, peace and development.
Mr Odame further called for a paradigm shift in the country's justice system, adding that an approach that relied solely on detention and punishment may work for a time but would do little to integrate laws and policies with social values and create broader support for the system.
Mr Nicholas Ofori Boateng, Regional Director of the NCCE, said that the Constitution Week Celebration was an annual programme on the calendar of the Commission instituted to commemorate Ghana's return to constitutional democratic rule for the fourth time.
He explained that the Commission considered the Security Services as major stakeholders in the task of uprooting corruption in Ghana, hence the need to engage them on anti-corruption campaigns.
He was optimistic that the engagement would go a long way to inspire personnel of the security services to demand and offer transparent and accountable public service to mother Ghana in whatever capacity they found themselves.
Source: GNA
Latest posts by Classic Ghana
(see all)