Putting on waxprint in traditional Ghanaian context requires understanding and skills to appreciate its relevance. While everyone dresses to attract the attention of others, in choosing what to wear, careful attention should be paid to fashion, style, body shape and beauty. If there is any female costume in Ghana that is best designed to suit these criteria then it is Kaba and Slit. This garment expresses the social identity of Ghanaian women. The costume is worn on occasions particularly those connected with cultural traditions like marriage, funeral and christening rites. Yet tradition and contemporary tastes are on collision course. We are thrilled to introduce to you Kaba and Slit and explore the question whether it is fading in the Ghanaian society or evolving into a new style.
KABA AND SLIT FASHION
Kaba refers to the top half matching blouse usually designed from wax print; slit is the long down half wrap skirt. A full costume consists of these and a scarf (head tie). It comprises formal and informal versions fully-tailored to designs. The formality depends on type of fabric used. The best valued fabrics are African waxprints which are industrially produced colourful cotton cloths with batik printing. There is lack of difference in the colour intensity of front and back side. Most of them are printed in Ghana and lately China; more expensive waxprints are made in the Netherlands called Dutch wax or Vlisco by Akosombo Textiles. GTP, Printex, and GMTC also manufacture well-known brands. Waxprints are more expensive than fancy prints, inferior imitations.
CULTURAL ICON
Why is kaba and slit the most popular costume? It is the icon of women's cultural heritage with designs influencing international fashion and lifestyle. Its multifaceted brands symbolically reflect the diversity of the country and strongly associated with maturity, decency and confident character. The glamour of the outfit is projected by First Ladies of Ghana especially Fathia Nkrumah and Nana Konadu-Agyemang Rawlings. It expresses the elegance and subtle soft flowing feminineness of the Ghanaian woman. It is cute and can be worn to the office. A woman must be in Kaba for important functions. At funerals, it is fashionable for members of the bereaved family to wear the same type of cloth. Marriage rite is incomplete without 6 pieces of waxprints for the payment of bride price. Its designs and patterns are powerful sources of a nonverbal communication among Ghanaian women and are an inspirational source for designers and companies. It constitutes capital goods for women serving as collectors' items. Kaba with two yard piece supports nursing mothers to carry their babies at their back.
SEWING KABA AND SLIT FABRIC
Ghanaian women wear a wide variety. Creators are mostly women who specialize in fabric designs and are always glad to sew and design to the customers' choice and taste. It is 100% about what the customers want. It is custom-made to fit the customer's own measurements and own choice in fabric and style. It is identified by its dazzling, multi-coloured patterns of bright colours, geometric shapes and bold designs. It represents women's level of empowerment within the social stratum as far as expression of agency through choice of fashion and styles are concerned. There is simply no end to the variety and creativity to styles.  Ghana, located a few degrees from the equator, is geographically closer to the center of the world and thus experiences a warm tropical climate. This makes the choice of cloths, colour, materials and time worn very important. This decision in the main is informed by fashion, style body shape and sense of beauty. Fashionable cloth brings out the best features of the wearer making the wearer look and feel good. Styleexpresses the most comfortable and confident feeling and look that a fabric gives one based on how it blends with the wearer's unique shape and bone structure. This results in beauty meaning the ability to accept and embrace all both outwardly and inwardly. The simplistic yet highly stylish look allows for accommodating changing tastes.
MODERNISED FABRIC FUSION
Is the wearing of Kaba and Slit costume fading? Opinions differ depending on how one interprets fading. For some functions and category of women as regimented career women and elderly, the frequency of use remains the same. Though it has a look that can fit a smart businesswoman, many wear Kaba over skirt sets as formal wear. Making the trends lately is Kaba blouse over other garments as jeans. There is simply no end to the styles, Kaba and Slit has defining shades. The evolving trend is popular for a combination of reasons.
It retains the core kaba while blending with a skirt, blouse, jacket, a pair of trousers or other dresses. Evolved styles take same kind while reflecting aspirations and inspirations of different generations. Evolution shows a sense of fun fashion by adding even more matching colour. Combination connotes simplicity and beauty interspersed. It is evolving to suit the culture and demands of the times. Flexibility allows transforming kaba into smart European style. One can combine fancy fabric with waxprint to meet the pockets of both old and young and at the same time make it colourful. Initially, the slit was in the form of a wrap hence, was time consuming. New designs reduce time for wearing. The wrapper just gave one slit style unlike the variety of styles we have now. This enable one to wear same slit with different matching kaba designs. The cost of sewing different sets of kaba and slits is cut down.
What is the future of Kaba and slit to fashion? It embodies deep principles and symbolisms. The trends being observed about Kaba and slit is that Kaba is still being worn regularly with different styles other than the original slit. The evolution reflects the dynamism and resilience of the fabric to adapt itself to meet the changing times and tastes of the society. It transcends generations by making the bold statement that is going from being to what is desired. Fashion is what one buys. Style is what one does with it. A woman in a well-tailored modernized combination will always shine brighter. Taste eminence with this gorgeous royal Ghanaian costume and you are bound to be noticed! Tell your tale by getting your own.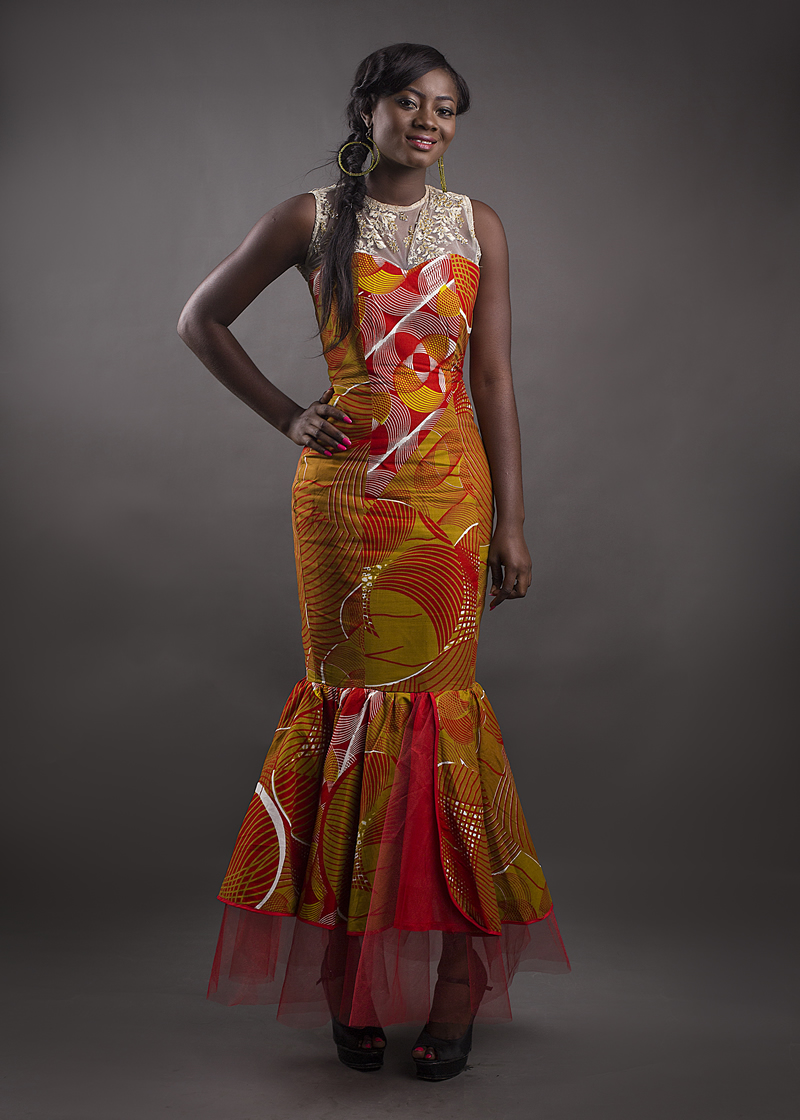 By Kojo Gyabaah
Pictures: Ghana Most Beautiful
Latest posts by Classic Ghana
(see all)