Under a brick-supported wooden shed at the edge of Cape Coast beach in the Central Region of Ghana, a group of fishermen gathered, some busily engrossed in draughts and other indoor games while others mended fishing nets.
Canoes with various inscriptions, colours and flags, were docked on the sand, and several fishermen sat on them staring at the gulf.
One bore the inscription "Gye Nyame," which roughly translates to "Except God or Only God."
It is taboo in this part of Ghana for fishers to go to sea on Tuesdays. But as fish stocks have declined in recent years, some fishers here are spending more than just Tuesdays on dry land.
The fishing industry in Ghana is critical to the country's economy and to meeting the food needs of its people. But destructive fishing methods, such as the use of illegal nets that indiscriminately catch juvenile fish before they can spawn, has become widespread, contributing to the depletion of fish stocks.
Kofi Agboga, Director of Hɛn Mpoano, a local NGO, said the practice could lead to an "ecological disaster."
While authorities here say they have attempted to stop the use of such nets, fishermen say more has to be done.
For one, the fishers believe the use of illegal fishing nets by some industry players is fueling the practice of saiko, a form of illegal fish transshipment.
Saiko is a term used in Ghana to refer to the transfer or transshipment of fish at sea from industrial trawlers to local canoes, which then landed them at ports such as Apam and Elmina.
Initially, saiko arose as a form of informal trading system whereby the unwanted catch of industrial fishing vessels would be exchanged at sea for food, fruit and livestock brought by canoes. Many industry players have bought into the idea as a quick way of avoiding bureaucratic port controls and maximizing their profits.
"If saiko is happening on our waters, it is because the industrial vessels on our waters are using illegal nets to catch the small fishes," said fisherman Kwame Amoah, 39.
"The trawlers were using bigger mesh size nets. But these days, they are using the same nets we are using," he said. "If they are not using illegal nets, how would they catch the small fishes and sell to the small boats as saiko?"
Fishermen say such activity by commercial trawlers has led to a decline in fish stocks and they're feeling the impacts.
"The Chinese vessels even trawl the stones and the fauna in the sea so there is no place for the fishes to lay their eggs," said Amoah, who has been in the fishing industry all his life.
Growing threats
Ghana's 2015 to 2019 Fisheries Management Plan indicates that there are 403 semi-industrial (inshore) fleet, 107 industrial trawl fleet, 20 tuna bait-boat vessels, and 17 tuna purse seine boat vessels on Ghana's waters.
The government, through the Ministry of Fisheries and Aquaculture Development (MoFAD), has set up a Fisheries Enforcement Unit (FEU) which monitors fishing activities. Yet Richard Kumah, 46, a Jamestown-based fisherman in Accra, believes the FEU is failing to address the problem of illegal fishing.
"They only sit in their offices, so they don't really know how these illegal activities are pushing some of us out of business," he said.
Kumah said many of the fishermen he sees who were not engaging in illegal acts have started to use light for fishing after realizing that the authorities were not punishing offenders.
"My brother, the sad truth is that, if you decide to do the right thing, you will go hungry because others will be using those illegal means to catch the few fishes left in the sea," he said.
Nii Aryittey and Benjamin Okine, also fishermen at Jamestown in Accra, said the fishing industry is not only threatened by the use of illegal fishing nets but many other illegal, unreported and unregulated, or IUU, fishing activities.
"You go to sea and find people using lights, dynamite and other chemicals for fishing. All these [methods] kill the fishes, including the juveniles," Aryittey said.
Sasu, 48, a Winneba-based fisherman, fears that the industry will no long be viable for future generations.
"I have been fishing here all my life. I learned fishing from my father, and through fishing, I have been able to take care of all my five children," he said. "I sometimes get scared when I look at how the sea is gradually becoming dry. No matter the efforts we put in our work, we get very little catch or sometimes, nothing at all."
Losses adding up
The Ministry of Fisheries and Aquaculture Development estimates that the fisheries industry in Ghana employs about 2.9 million people, representing about 10 per cent of the country's population.
According to figures from the Ghana Statistical Service (GSS), the fisheries sector contributed 2.5 and 2.3 per cent to Ghana's Gross Domestic Product (GDP) in 2009 and 2010 respectively. But that figure has fallen significantly since 2011, with fisheries only accounting for 1.1 of Ghana's GDP in 2016, according to available statistics.
Professor Wisdom Akpalu, a Natural Resource Economist and President of the African Association of Environmental and Resource Economists (AFAERE), attributes the poor contribution the fisheries sector makes to the national economy to dwindling fish stocks due to IUU fishing methods.
"Because we are depleting the stocks, we are potentially losing money," Prof. Akpalu said, estimating losses between 2012 and 2017 at "over US$200 million."
Industry players, particularly those in the artisanal sector, have also complained of low catches in recent years.
According to the Food and Agriculture Organization (FAO), Ghana's production from marine fisheries has been declining since 1999, from almost 420,000 tonnes that year to 202,000 tonnes in 2014. One of the reasons for the decline, the FAO says, is overexploitation of marine stocks by industrial fishing fleets. Many of these industrial fleets, often illegally, target areas that are otherwise reserved for small-scale fishers and their communities.
IUU fishing is estimated to affect one in every five fish caught, according to the FAO.
An October 2018 report by the Environmental Justice Foundation said that illegal fishing robs some West African countries, such as Mauritania, Senegal, The Gambia, Guinea Bissau, Guinea and Sierra Leone, of an estimated US$2.3 billion annually. "Only a fraction of these losses (approximately US$13 million) are recovered each year through sanctions for fisheries-related offences," the report stated.
In November 2013, the European Commission sanctioned Ghana for not controlling IUU fishing on its waters, costing the country more than US$150 million in foreign exchange. The sanction prevented Ghana from exporting fish to Europe.
Since then, the government has taken some action to crack down on the practice. In July 2017, the Fisheries Enforcement Unit seized and destroyed illegal fishing nets worth about GH¢3 million (roughly US$552,000) at the Kpone Landfill Site in Accra.
The MoFAD's Acting Chief Director, Prof F.K.E. Nunoo, said in an interview it was collaborating with the Chief Justice and Attorney General's offices to set up special courts to prosecute fishers engaging in IUU fishing.
He said some who have violated fisheries regulations have been fined and warned that the Ministry would not hesitate to revoke the license of any trawler that goes against Ghana's fisheries laws.
"We prosecute, fine and withdraw licenses of those who violates the fishing regulations," Nunoo said. "Those that we have to cancel their licenses, we do. So, they are not going scot-free."
He said an offender could be fined up to $1 million.
Preventing all forms of IUU fishing on Ghana's waters with strict adherence to best fisheries practices would help to improve stocks, he explained.
"They [fishers] should collaborate with the Ministry and the Fisheries Commission to regulate the stocks. They should comply with regulations and they should fish according to the laws," Nunoo implored the fishers.
Given the fast decline of Ghana's stocks, particularly the small pelagics, Nunoo said the matter called for urgent attention and measures to prevent the industry from imminent collapse.
He denied accusations by some fishers that the government was not doing anything to safeguard Ghana's fisheries industry.
More is needed
Godfrey Baido Tsibu, the Western Regional Director of the Fisheries Commission, said better law enforcement is still needed to improve fish stocks in Ghana's waters.
Many fishers currently use monofilament nets because they are cheaper than the nylon ones, "but cause a lot of harm to the environment," he said in an interview.
Although monofilament nets are not illegal in Ghana and are sold on the open market, they are only meant for aquaculture and not marine fishing.
However, some fishers intentionally buy nets meant for aquaculture farming and use them for marine fishing, said Gyekye Twum Ampofo, the procurement manager of the CCT-Group Limited, dealers in fishing nets.
According to him, marine fishing nets have a mesh size beginning from 2-inches upwards, while nets used for aquaculture have mesh sizes of 3/8 and 1/2 inches.
"They have been informed and they know the sizes they are supposed to use," Ampofo said. "They intentionally go to the dealers and tell them that they are buying it for aquaculture caging, but it will end up in their canoes."
The Director of the Centre for Coastal Management of the University of Cape Coast, Prof Denis W. Aheto, said unlike the industrial trawling sector, which has some formal regulations, the artisanal fishing industry lacked proper regulations and supervision, hence many of the players engaged in IUU practices.
Other experts echoed the fishermen's concerns that the government is too removed from what is happening on the ground.
Kofi Agboga said many illegal activities were happening on Ghana's waters because, "most of our leaders lacked understanding of the fisheries industry."
"We have a big problem and we have to solve it," he said. "If the industry collapses and all the three million people involved in the fishing industry marched to the seat of government, they will force the government out."
Hoping to be heard
Many in the industry also share Agboga's concern that the use of nets that catch juvenile fish could amount to an ecological crisis.
Fishmongers at Abandze in the Central Region say they incur a lot of costs from selling juvenile fish, as most of them get destroyed when being processed. They are also aware of the impact the catch of juvenile fish has on the marine ecosystem and have expressed concern about the increasing quantity of juvenile fish sold to them by fishermen in the area.
In a story that appeared in the Daily Graphic in November headlined "Abandze Fishmongers Worried About Increasing Sale of Juvenile Fish," the leader of the fishmongers, Madam Elizabeth Koomson, is quoted as saying: "We are not happy buying and selling such fish. They burn in the oven and we get nothing."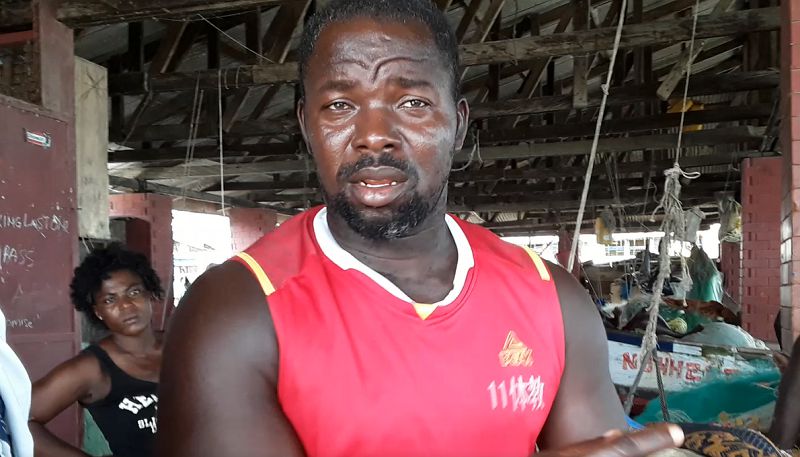 As Kwame Amoah, the fisherman in Cape Coast, sits under the shed lamenting with his colleagues about the fisheries industry and its gloomy future, their only prayer is that the government takes every necessary step to avert the possible collapse of the industry and involve them in the process.
Source: graphic.com.gh
Latest posts by Classic Ghana
(see all)