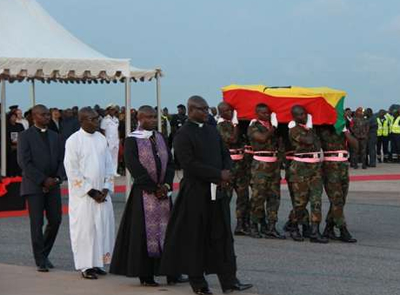 The Reverend Dr Daniel Slyvanus Mensah Torto, the Anglican Bishop of Accra on Monday evening led a solemn service to receive the mortal remains of the former United Nations (UN) Secretary-General, Kofi Atta Annan at the Accra International Conference Centre.
It was preceded by pouring of libation by Nana Brewuo III, Otumfuo's Tudwono Krokrohene of Konongo of Asante-Akyem, who doubles as the Keeper of the Golden Stool, before the casket decorated with the national colours of red, gold and green, with a black star, carrying the body of Ghana's illustrious son was taken from the black hearse.
A six-member pallbearers from the Fifth Infantry Battalion, led by a Lieutenant, carried the casket, which they rested on a holder at   the foyer of the Conference Centre.
The brief ceremony was witnessed by dignitaries,  led by the First Lady, Rebecca Akufo-Addo, Madam Shirley Ayorko Botchwey, the Minister of Foreign Affairs, Mr Alan Kwadwo Kyerematen, the Minister of Trade and Industry, Madam Nane Maria Lagergren, Mr Annan's widow and some family members.
Rt. Rev. Torto led the gathering to pray for a peaceful rest for 'the Champion of Peace and Humanitarianism'.
A three-day national funeral service commencing from Tuesday, September 11 to Thursday 13, would be held in memory of the gentleman, who exhibited the best of values in the Ghanaian at the global level.
World leaders and people from all walks of life are expected to pay their last respects to the global peace icon, who served humanity with integrity and humility.
Mr Annan passed away peacefully on August 18, 2018 in the Swiss city of Berne, after a short illness.
He was aged 80.
Mr Annan was the seventh United Nations Secretary-General, heading the global body from January 1997 to December 2006.
Many tributes have since been pouring in invariably describing him as 'a global statesman and humanitarialist ', who tirelessly fought for a fairer and more peaceful world.
He brokered many peace deals in countries plagued with conflicts and wars, mainly using shuttle diplomacy.
In 2001, he co-received the Nobel Peace Prize with the UN.
Source: GNA
Latest posts by Classic Ghana
(see all)