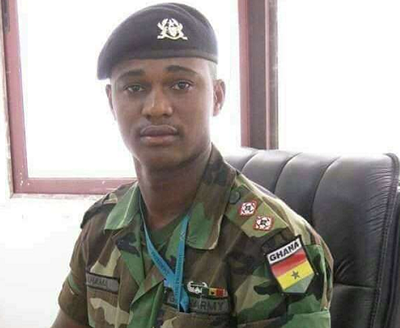 Mr Kojo Nfum, aka Agya Koo, a fuel Seller told an Accra High Court on Wednesday that the late Major Maxwell Mahama begged for mercy when he was being attacked by some residents of Denkyira-Obuasi in the Central Region.
The fourth prosecution witness, in the case involving the trial of the alleged murderers of the late Major Mahama, said he saw blood oozing from the victim's head and later his body became motionless.
Mrs Evelyn Keelson, a Senior State Attorney, who was leading the witness to give his evidence in chief elicited, that he subsequently saw a police van which came to convey the body of the late Major Mahama.
The witness who was narrating what he saw in Akan through an interpreter, said he went to sell his fuel at a nearby village and upon returning, when he got to Nkwantanan, the residents told him that a thief has come to Denkyira-Obuasi.
He said, he rode on his motorbike into the village to also catch glimpse and on his way, he met Major Mahama with two men following him.
He said they were carrying guns and firing at the late Major Mahama and when he met him, he (Maj. Mahama) asked him to carry him on his motorbike but initially one Kwame Adjei, a witness in the case had wanted to pick him on his motorbike but then one Amankwah threatened to shoot at him.
The witness said the late Major Mahama jumped onto his motorbike and as they were going, they hit a bump and both of them fell off the motorbike but he was quick to jump on to a moving timber truck.
He said it was at this juncture that Amankwah and one Akwasi Boah asked him to get down but he refused and he was shot but the bullet hit the windscreen of the truck.
He said one Akwasi Boah went for the gun from Amankwah and when the late Major Mahama fell into a pit, I saw one Akwasi Asante fired a gun at late Major Mahama at his head and hand.
"I also saw Kofi Nyarko aka Abortion using stick and cement block to hit him," he added.
Mr Nfum, who is a motor rider said he saw Bernard Asamoah alias Daddy and one other boy also hit the Major with a sticks and blocks on the head.
However, during cross-examination by Mr George Bernard Shaw, counsel for William Baah, Bernard Asamoah, Akwasi Baah, Bismarck Donkor, Akwasi Baah and Emmanuel Badu asked the witness how, he was connected to the case and he said after the incidence, he fled the area to Techiman in the Brong Ahafo Region.
He said on the streets of Techiman, he was making phone call but unknowingly, Police Detective was eavesdropping on him.
The witness said, he was subsequently arrested and brought to the Police Headquarters, and kept at hotel for two months and two weeks.
Asked, whether because he was afraid of losing his freedom, that is why he has decided to implicate others to enable him to gain his freedom, the witness answered in the negative.
Defence Counsel suggested to the witness that if he was innocent of the death of the late Major Mahama, why did run away from his hometown but Mr Nfum said "My Lord everyone in the village was running for their dear lives".
The Court presided over by Justice Mariama Owusu, adjourned to Monday November, 19 for further cross-examination of the witness.
Fourteen persons are standing trial at the Accra High Court for the death of the late Major Mahama, an Officer of the 5th Infantry Battalion at the Burma Camp, who was on duty at Denkyira-Obuasi, when on May 29; some residents, who allegedly mistook him for an armed robber, lynched him.
The mob allegedly ignored his persistent plea that he was an officer of the Ghana Armed Forces.
The accused are William Baah, the Assemblyman of Denkyira Obuasi, Bernard Asamoah alias Daddy, Kofi Nyarko aka Abortion, Akwasi Baah, Kwame Tuffour, Joseph Appiah Kubi, Michael Anim and Bismarck Donkor.
Others are John Bosie, Akwasi Baah, Charles Kwaning, Emmanuel Badu, Bismarck Abanga and Kwadwo Anima.
Source: GNA
Latest posts by Classic Ghana
(see all)