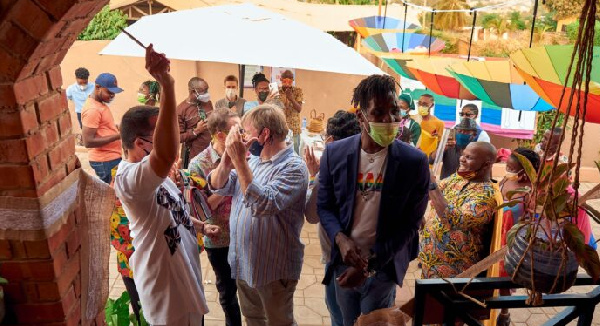 The LGBTQ+ community in Ghana has begun raising fund for the purchase of an office building in Accra.
The move follows the closure of a rented space at Ashongman, a suburb of Accra by the Ghana Police Service.
While celebrating the opening of the adminisrative office, the group had explained that there was a need for Ghanaians to respect human rights hence setting up a safe space for members.
But the January 31 event which saw in attendance representatives from the Australian and Danish Embassies and other EU delegation, was heavily criticised by a cross-section of Ghanaians including anti-gay rights advocates who cited a contradiction to the country's laws regarding unnatural carnal knowledge of another person.
The issue generated a national debate with many calling for the closure of the office and a decisive stance on LGBTQ activities in the country by the government.
Subsequently, the office was raided and locked up by the police.
Thank you so much for giving. We appreciate every coin. #TogetherWeBuild #QueerGhanaianLivesMatter 🇬🇭🏳️‍🌈#GhanaGetsBetter pic.twitter.com/XlnumDXkoY

— LGBT+ Rights Ghana (@LGBTRightsGhana) March 13, 2021
While some Ghanaians including the MP for Bawku Central, Mahama Ayariga had condemned the action by the security force, describing it as unconstitutional, the anti-gay advocates further advanced their arguments for the government to dispel the ambiguity surrounding the laws on sexuality.
In response to the brouhaha, President Akufo-Addo on Saturday, February 27, said same-sex marriage will not be legalised under his Presidency.
However, taking to its Twitter page, the group said it wants to raise some $100,000 so a new office space can be purchased.
The tweet also revealed that a total of $37,113 had already been raised.
Source: myjoyonline.com
Latest posts by Classic Ghana
(see all)