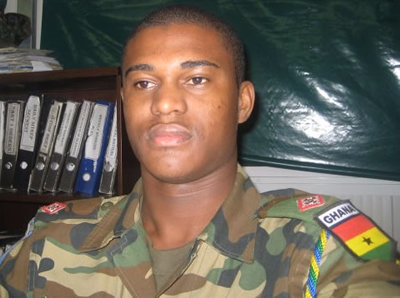 An Accra High Court Tuesday adjourned the trial of the alleged murderers of Major Maxwell Mahama to Thursday, February 21, to enable Mr Bernard Shaw, a defence Lawyer in the case, to commence his cross-examination of the sixth witness.
Mr Shaw, who was reported to be unwell at the last adjourned date, was said to be still indisposed when the case was called today.
At the previous session, the sixth prosecution witness, a 14-year old Junior High School student, told the Court, presided over by Justice Mariama Owusu, that she saw Akwasi Asante, one of the accused persons, take his father's gun.
She narrated: "On May 29, 2017, when the incident happened, l went to school without picking my pocket money, so l came back home to pick the money and upon entering our room, a few minutes later, my uncle Akwasi Asante, entered to pick the gun."
The JSS two student, whose evidence in chief was led by Mrs Evelyn Keelson, a Chief State Attorney said, she asked Uncle Asante twice, where he was taking the gun but he did not answer her.
The witness, who spoke Twi, through an interpreter, said she locked the door and left for school and it was upon her return from school that she informed his father that Uncle Asante had come for his gun.
"My father went to the Deiso Police Station to lodge a complaint, where I was invited to give my statement to the Police," she added.
The witness was also made to identify the said Akwasi Asante in open court.
Fourteen persons are standing trial at an Accra High Court over the killing of Maj Mahama, who was an Officer of the 5th Infantry Battalion, at the Burma Camp.
He was on duty at Denkyira-Obuasi in the Central Region, when some residents allegedly mistook him for an armed robber, while he was jogging, and lynched him.
The mob had ignored his persistent plea that he was an officer of the Ghana Armed Forces.
The accused are William Baah, the Assemblyman of Denkyira Obuasi, Bernard Asamoah alias Daddy, Kofi Nyarko aka Abortion, Akwasi Boah, Kwame Tuffour, Joseph Appiah Kubi, Michael Anim and Bismarck Donkor.
Others are John Bosie, Akwasi Baah, Charles Kwaning, Emmanuel Badu, Bismarck Abanga and Kwadwo Anima.
Source: GNA
Latest posts by Classic Ghana
(see all)