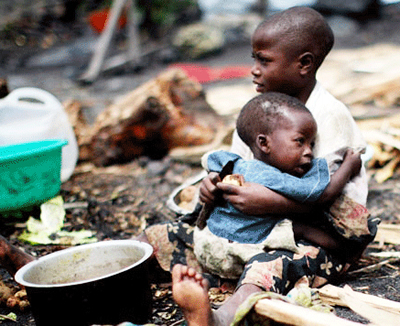 The window of opportunity that awaits growing children into adulthood and the expectations of a nation of them is threatened with the increasing spate and concerns of Malnutrition and stunting in children.
Half of the world Population according to Food and Agriculture Organisation (FAO) and WHO is malnourished.
In Ghana, one -quarter of the population or 28 percent of all children under five are stunted-that is, too short for their age, reflecting a failure of stunted children to receive adequate food intake over a long period of time, and therefore depict chronic malnutrition. Ghana Trade and Livelihoods GTLC report 2017.
This alarming scenario of the silent hunger threat should not give Ghana any peace and excitement   in the journey to achieving the targets of the SDGs, because for many of such children, the window of opportunity of future employment will elude them, they will remain poor because of lack of productive activities.
THE STATTLING SCENARIO
In 2014, the Ghana Demographic and Health (DHS) Survey recorded that 18.8 per cent of children under five were stunted. The scenario over the years indicated non-uniformity in regions of the country.
For the last eight years stunting rates keep dwindling and in Upper East Region and the Central Regions have become priorities in child stunting.
Even though some of the regions are supposed to be food baskets of the country, children wallow with nutrition challenges. In the Upper East Region, stunting in 2011 was 22 per cent and these figures keep dwindling.
In the Northern Region, the stunting rate is 33 per cent and in the Upper East Region from 2008 to 2014, the stunting rate is 42 per cent above the national rate of 19per cent.
ECONOMIC IMPACT
Cost of hunger in Ghana indicates that the country already spend heavily annually on people with nutrition problems including; their health care costs, educational burdens and low productivity of their workforce.
According to a report, childhood malnutrition reduces an individual's future earnings by at least 20 per cent and robs some of the world's poorest countries of at least eight per cent of GDP. Meanwhile a study in Ghana shows that an amount of GHC4.6 billion is spent yearly extrapolating to 6.4 per cent of the country's GDP on child under nutrition.
Meanwhile The GSDA 11 financial costing requirement for implementation on nutrition strategies between 2014 and 2017 GHC4.367 million while Health estimated costs was pegged at GHC6.868.008.
This is an indication that more money will continue to go after health of people and building of structures.
However, when efforts were made to address challenges of nutrition and families live well, heavy expenditure spent annually on health of people especially malnourished children will reduce and the resources channelled into other important areas of the economy.
Mr Joshua Bayellebarea Nutrition Officer who spoke with the Ghana News Agency at the Tongo Health Directorate in the Upper East Region indicated that a stunted child was slow in learning and because they lacked the needed four star diet for requisite nutrients and so their condition can affect the growth of the child into adulthood and therefore a stunted child, will remain a stunted adult.
He said stunted children have greater chances of chronic illnesses, and the rippling effects on their families could widen their poverty levels, and the burden on providing services for them will continue to have greater impact on the country's purse.
Mr Bayellebare said failure of a child to grow weight normally, during its critical growth stages, stand risk of compromised physical and cognitive development and increased risk of developing non-communicable diseases later in life, as well as decreased IQ and poor school performance resulting in lower life-time earnings because they drop out of school early in life.
IMPACT OF STUNTING
Families especially mothers with children suffering from stunting will have to spend more time at home tending to a child in their condition than work which is an avenue for income for her and the disadvantages of having reduced earnings means inability to buy adequate food supplies for the home where problems of health in communities are mostly related to nutrition.
Government expenditure on subsidising for the National Health Insurance, medicines will increase if special attention is not given to nutrition issues and this will culminate into prevalence of deaths and under nutrition. This underscores an urgent need to invest resources and ensure continued political will to eliminate malnutrition in Ghana.
Financial burden of malnutrition and cost analysis on stunted children when properly done expose the impact on GDPs of every nation.
The contribution of a child when not stunted are many and this is what the country should be interested in and invest its resources into interventions that provide mothers and children to have sustainable services to address nutrition and child survival.
IMPORTANCE OF NUTRITION
Nutrition is pivotal to life and growth and at no time is it more important than during the first 1000 days of life and therefore suboptimal nutrition during this window of opportunity deprives every child from reaching its full potential life.
In addition, malnutrition during childhood have an effect on generations to come because malnourished adolescent girls who have a sub-optimal nutrition status during pregnancy generate into low birthweight babies, who in turn experience same situation of malnutrition during their childhood.
For lots of food eaten by children in many households in Ghana contain high starch, but the issue of how much food a child eats should highly be based on recommended amount of energy needed daily.
In addition to stunting, many children suffer from being too thin and more recently some are becoming overweight, which is also a sign of malnutrition.
Every other pregnant woman and every other child in Ghana experiences unacceptable levels of iron deficiency anaemia, iodine deficiency and/or Vitamin A deficiency.
THE NATIONAL NUTRITION POLICY
The aim of the National Nutrition Policy is to ensure optimal nutrition and health of all persons living in Ghana and to enhance capacity for sustainable economic growth and development.
Though efforts at reaching this goal is on-going there, is more to do. This is because lack of coordination and poor institutional structures are militating against successful interventions the policy strives for.
For instance activities of the Ministry of Agriculture running and its interventions run separately from the Ghana Health Service.
The District and Municipal Assemblies stand to gain a lot when children are not stunted and nutrition in communities is proving on the health facilities. To a greater extent the onus lies on aligning nutrition programmes into the Medium Term Plans in tandem with the National Nutrition Policy.
It for this reason that SNV, a Dutch NGO has called for intensification of government commitment to issues of nutrition to be well addressed.
To this end, SNV is working and building capacities of Civil Societies to engage decision makers under the Voice for Change (V4C) programme.
The Objective of the V4C advocacy programme is to enhance government and private sector accountability, ensure that promises and actions are fulfilled and also to enable CSOs to have greater voice and be able to lobby and effectively serve the interests of people they represent.
CONCLUSION
To this end, the realignment of Medium Term Plans of Assemblies to the Nutrition Policy should be of interest to government so that right financial resources are made to address nutrition interventions.
It is also recommended that the interventions should also help communities and families to grow fortified crops and provide the best nutrition for women in their reproductive age, infants and young children.
By Fatima Anafu- Astanga
Source: GNA
Latest posts by Classic Ghana
(see all)