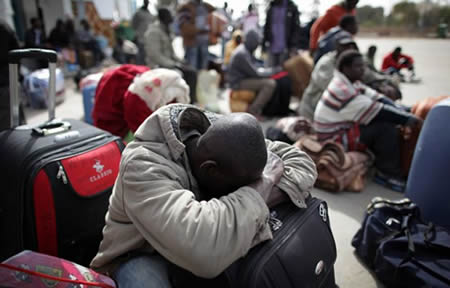 About 4,092 Ghanaian migrants returned from Libya in 2017, figures from the Ghana Immigration Service (GIS) has revealed.
According to Chief Superintendent James Hayford Boadi, the Brong-Ahafo Regional Head of the Immigration Information Centre of the GIS, most of the returnees were from Brong-Ahafo.
Instead of leaving the country through the appropriate routes, the migrants risked their lives through the Sahara Desert to Libya and cross the Mediterranean to Europe, he said.
Speaking at the opening session of a returnees' needs assessment workshop on Monday in Sunyani, Chief Superintendent Boadi said irregular migration was becoming a national challenge which needed concerted efforts to tackle.
The Ghana Centre for Jobs, Migration and Re-integration (MIAC) of the German Development Cooperation (GIZ) in collaboration with the Ministry of Employment and Labour Relations organised the two-day workshop attended by about 85 returnees.
Most often Ghanaians voluntary returnees arrived without significant awareness of the changed dynamics in the country after years and sometimes decades of absence.
Research showed that the alienation experienced in the country had a direct effect on the ease of reintegration.
Currently, about 800,000 Ghanaians live and work outside their home country.
The workshop was however aimed at providing information on opportunities in the Ghanaian labour market and skilled vocational training for the interested returnees to get employment, become self-reliant and stay comfortable in Ghana.
Chief Superintendent Boadi noted that since the migrants entered Europe irregularly, most of them only had the option of applying for asylum with little prospect of success while others lived precariously.
Globally, he said more than 3,233 irregular African migrants died in 2017, adding that from January to August this year more than 1,549 deaths were recorded mostly on the Mediterranean.
Mr. Kwasi Awuah Ababio, Director of Diasporian Affairs at the office of the President, said numerous economic opportunities were available in the country and advised the youth to stay home and take advantage of that to build their future.
He urged the youth who were determined to travel abroad to choose the regular labour migration routes in order not to be stranded.
Source: GNA
Latest posts by Classic Ghana
(see all)