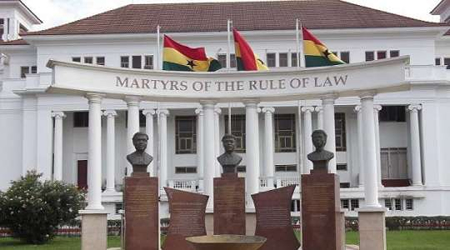 Rev Professor Aaron Michael Oquaye, the Speaker of Parliament of Tuesday indicated his personal support for the death penalty as the House approved by consensus, the nomination of four persons by President Nana Akufo-Addo as justices to the Supreme Court of Ghana.
The approval followed the debate by Members on the Report of the Appointments Committee after the vetting of nominees-Prof Emmanuel Ashie Kotey, a former Dean of the Faculty of Law of the University of Ghana; Nene Abayateye Ofoe Amegatcher, private legal practitioner and former President of the Ghana Bar Association; Justice Samuel Kofi Marful-Sau and Justice Agnes Mercy Abla Dordzie, both judges of the Appeal Court of Ghana.
The Speaker, in a comment, before the plenary responded with a resounding "aye" to approve the nominees, picked on the thorny issue of death penalty and indicated that the death penalty, although not used for a long time in Ghana should be maintained to serve as deterrent.
The issue of the death penalty had come up during the vetting, and the Speaker wondered if it were right for a person to continue to enjoy life, on the grounds of human rights, if he or she takes that of others in a shooting spree.
Rev Prof Oquaye cited an instance of a psychopath, who enters a mosque on a Friday or a church on Sunday and kills about a thousand people in each case and then he is allowed to go scot free on the grounds of human rights.
He asked the proponents of human rights, who would not support death penalty for such a person, if that person has the right to take the lives of others.
Rev Prof Oquaye registered his personal support for the death penalty to be maintained, as he put it "have it in our pocket to serve as deterrent to offenders."
First Deputy Speaker and Chairman of the Appointments Committee Joseph Osei Owusu agreed with Majority Leader Osei Kyei-Mensah-Bonsu that issues about the number of people to serve on the Supreme Court, whether to capped or increased should be directed to that office for interpretation.
The appointment of the Justices to the Supreme Court followed the retirement of some long-serving justices.
As at 2016, there were 14 Supreme Court judges, but at least three Supreme Court judges have retired or are expected to retire in a few years.
Source: GNA
Latest posts by Classic Ghana
(see all)